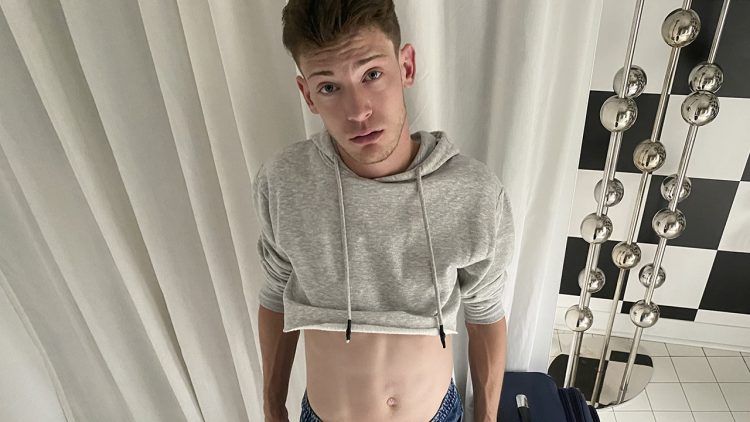 Out of all the male stars in the biz, my all-time fave is still Edward Terrant. With his sexy looks and yummylicious six-pack abs, you might quickly find yourself in cloud nine.
The gay porn industry has undergone many changes. In fact, it's a lot different today compared to the past 20 years or five years. 
Did you know that most male pornstars in the biz started in gay porn? They used it as a stepping stone to segue to the straight niche. 
Back then, this oddly satisfying genre was very much stigmatized. Fortunately, the pornography world has changed that. And today, it's the go-to-market for anyone who's looking for gay-related satisfaction. 
Like the straight category, this niche also has endless subcategories to offer. It has fetish porn like bondage and pissing. 
There's porn about everything — from gangbang, orgy, rough, young porn to daddy porn, monster cock, shemales, twinks, and straight guys going gay. 
And since the demand for this category is continually going up, more and more gay pornstars join the biz. They're all prepped up to give you the best gay performances you'd ever see!
Oh, wait — you might want to take note that gay porn isn't all about dudes banging guys and vice versa. There's also an abundance of bisexual scenes in this niche. You might even see male pornstars fucking trannies and transexuals sticking their cocks into luscious bumholes. 
What's fantastic about the performers in this category is most of them just really don't care about their on-screen partners' sexual orientation. All they care about is getting laid and being satisfied. 
If blowjobs turn you on, then this niche can give you the best fellatio skills out there! They give the sloppiest blowjobs and even make sure their trans friends join the fun. 
Moreover, you can also find fantastic fisting films that'd leave you breathless. Some performers are even into cosplay, fetish, and kink. 
Anyway, do you already have a fave gay pornstar? Well, even if you have, you might still be interested in adding Edward Terrant to your list. He's simply amazing, and I know he might help you realize your gay desires and fantasies. 
Edward Terrant Bio
Born:

December 2

Birthplace:

Canada

Ethnicity:

Caucasian

Hair Color:

Brown

Eye Color:

Brown

Height:

5'11" (180 cm)

Penis Size:

8"
Edward's personal life
Apparently, you're now pretty excited to learn more about this yummylicious hunk. So, let's get it started, shall we? 
Edward was born on the 2nd of December in Canada. For now, I don't have any idea about his birth year and exact birthplace. But I got a good feeling he's going to reveal those deets soon. 
I guess what's important right now is this real-life Adonis can make you cum so freaking hard when you see his superb performances. 
He has beautiful brown hair and piercing hazel eyes that can bring you to cloud nine in just one gaze. He's just the perfect the way he is, so it's no surprise if some of you might have a huge crush on him — or be jealous of his flawlessness!
It seems like Edward frequents the gym regularly to maintain his well-toned physique. I can only imagine how girls (and boys) turn their heads when they see him lifting weights and sweating.
Other gym-goers might be tempted to wipe off the sweat on his six-pack abs. And if he's wearing some pretty tight gym shorts, you might notice his enormous package, which is 8" long. Giving him a deepthroat might be quite impossible unless you'd really like to choke on his huge wang. 
Edward is the complete package. Aside from having a handsome face, gorgeous bod, and big dick, he also has excellent acting skills. 
Oh, before I forget, this luscious male star has a small circle tattoo between his first finger and thumb. You might not be able to spot it quickly when you watch some of his videos due to its minimalistic design. 
He hasn't said anything yet about the meaning of his ink. But according to what I've found on the Web, a circle tattoo represents totality, wholeness, and perfection. Interesting, don't you think?
If you want to know more about this guy, you can follow him on Twitter. By doing this, you can stay updated on what Edward is up to in his personal and career life. 
He has written on his social media bio that he's an exhibitionist. And that's great news for everyone who's craving for more from this bombastic star. 
As of this writing, Edward is staying in Montreal, Quebec, Canada. 
Edward's adult filming career
Edward made his official porn debut in 2020. I guess that means he's one of the fresh faces in the biz. 
Although some may think he doesn't have what it takes to thrill gay porn fans because he's still a neophyte, watching his scenes might change your mind. Ever since invading the industry, he has shown everyone his incredible screen presence you can't ignore. 
He has already shot numerous x-rated films that'd take you to seventh heaven. It's a good thing that Edward is very passionate about his job. That means we're going to see more titillating vids of him in the near future. 
He has worked for several porn studios like Dad Creep, Men.com, Breed Me Raw, Falcon Studios, Family Dick, Reality Dudes, Stay Home Bro, Twink Trade, Yes Father, MASQULIN, and Cocky Boys. 
Edward Terrant Alluring Nudes
Dying to see this hunk in his naked glory and sexy poses. Well, I won't keep you waiting.
Edward Terrant on Social Media
Here's my final say
Do you want to experience an extraordinary night? Well, what are you waiting for — check out Edward Terrant's mouth-watering porn movies now!