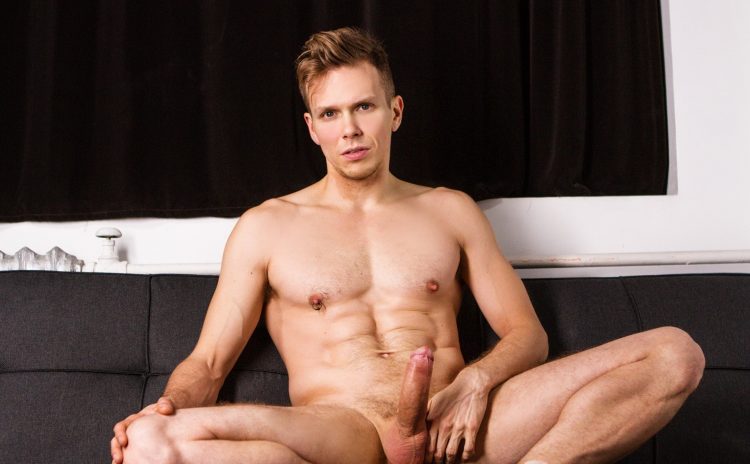 Born:

November 16

Ethnicity:

Caucasian

Hair Color:

Brown

Eye Color:

Blue

Height:

5'7" (170 cm)

Penis Size:

7.5"
I've been a porn fan for quite a while now, and I've noticed male pornstars aren't getting the same attention as their female counterparts. 
Most blog posts I've read on the Web feature beautiful women and their luscious lady bits. And it's quite rare to see articles showcasing guys with their rock hard penises and their anal-ready booty holes. 
So, I think it's about time to focus the spotlight on them. I mean, incredible porn movies would be non-existent without them. Although solo female porn is interesting, it's still nice to see pussies getting banged by large wangs on cam — or male assholes getting banged. 
In short, the adult filming industry would never be the same without these handsome hunks gracing our screens.
And of course, let's not forget about the gay porn category. Without male stars, we won't be enjoying the goodies this fabulous niche has to offer. 
One of my faves is Ethan Chase. He's one of the sexiest men I've ever laid my eyes on. He's a sex-machine that's going to give you one hell of a show!
So, maybe you'd want to get yourself ready as what he's about to offer is something extraordinary. You might not have seen a male species as perfect as he is!
Hop on in this sex train, and I'll take you to gay paradise!
A breathtaking white hottie
Ethan was born on November 16, his birth year and birthplace not yet disclosed to the public. I've searched everywhere for more details but to no avail. 
But there's one thing I'm sure of: This real-life Adonis is Caucasian. 
I might not have any idea of when exactly he was born, but based on his appearance, he might be in his 20s. Yep, he's pretty young and got so much ahead of him, especially in this kind of biz where youth is king!
Well, I guess those things don't really matter. I mean, what's important here is Ethan can give us a happy fapping time!
Still, I'm keeping my fingers crossed that this saucy gay actor would reveal more of his personal deets soon. 
Anyway, Ethan is 5'7" tall and weighs 150 lbs. He got blue eyes that are truly mesmerizing. In fact, those were the first things I noticed when I checked out some of his porn movies. I feel like his porn fans could get lost in them forever. 
After all, many people are fascinated with blue-eyed gentlemen — the perfect picture of a Prince Charming.
Once you see some of his films, you might get the impression that he's brought into this world to show us a screen presence like no other. So it's no surprise that porn lovers, regardless of gender, are going crazy for his scenes.
I think it's also worth mentioning that he got a 7.5" big penis — huge enough to bring his on-screen partners (and his viewers) to cloud nine. 
As of this writing, Ethan doesn't have any ink on his body. However, that doesn't mean that he's against body art. In fact, he got a piercing on his right nipple. 
I'm not sure if he's planning to get a tattoo in the near future, but I guess we'll see it when he does. 
What's impressive about Ethan is his six-pack abs and well-toned body. It's indeed a sight to behold, especially for the fanatics of this genre. 
He's a power bottom, which means he gets his satisfaction from being fucked while still taking charge of the situation. 
Most of his films are under the b/b category, so I'm unsure if he's willing to shoot scenes in the b/g niche. 
Ethan is pretty versatile when it comes to sexual positions. He can do various tricks to ensure orgasms for his on-screen partner. However, he doesn't have a particular favorite. 
A geeky pornstar making his way to success
I don't have any idea when Ethan invaded the porn business, but I noticed that most of his earliest films were released in 2017. I guess that means he made his debut in that same year. 
He's a talented gay pornstar you might not want to miss. So if I were you, I'd add him to my must-see list. 
If you need some recommendations on which of Ethan's scenes you should watch first, you can start with the following titles: "Breakfast Club: A Gay XXX Parody" for Drill My Hole in July 2017 and "SuPERVisor" for The Gay Office in August 2017. 
Oh, make sure to watch parts 1 and 2 of those films for a superb experience. 
Hopefully, those can help you achieve multiple orgasms tonight. *wink*
Here's my final say
Did you enjoy this feature article about Ethan Chase? 
Well, I hope his films can get a spot on your bookmarks' list.