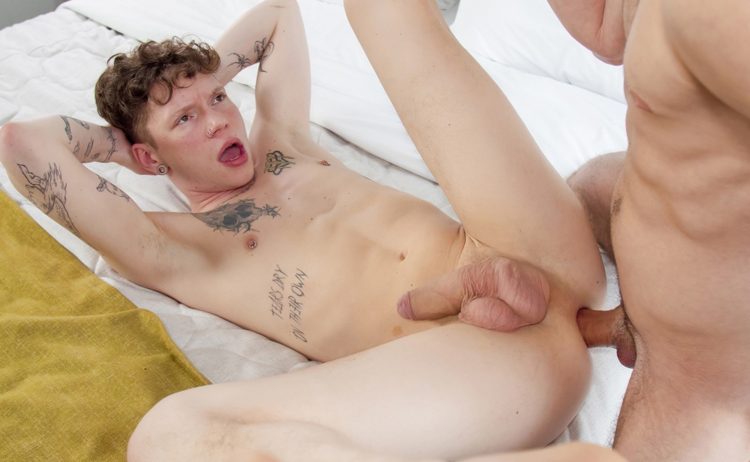 Do you love rough but passionate sex? If you do, then Marco Bianchi can be your go-to guy. He's a Canadian redhead cutie that's gonna take you to seventh heaven with his stunning looks and unique personality — not to mention his wild attitude towards sex is 10/10. 
This guy is way different from other male stars in the biz. He's sort of a rebel. He doesn't follow the norms and loves defying expectations. 
And if you ask me, those characteristics are making him more intriguing. 
Marco's gonna take your breath away with just one glance — a handsome Prince with body piercings and tattoos. 
What makes him more attractive is the fact that he's very self-aware. He likes sex a lot and enjoys being a bottom. 
But I heard that he's really not into kissing. In fact, he doesn't like any touchy-feely stuff during sex. 
Well, I guess that's because he prefers it rough. 
There are still a lot of exciting things you might want to learn about Marco. So, don't hesitate to read this article till the end. 
Marco Bianchi Bio
Now, let's get to know this hottie better. And let's start with his basic personal deets. 
Other Names:

Marco Biancci

Hair Color:

Brown

Eye Color:

Blue

Ethnicity:

White

Height:

5'8" (175 cm)

Body Type:

Normal

Penis Size:

Medium

Dick:

Uncut

State:

Canada

Tattoos:

Yes

Piercings:

Yes
Marco Bianchi Saucy Nudes
Nothing beats a guy who knows exactly what he wants — and that's what makes Marco amazing. He's pretty straightforward about his preferences in the bedroom. And yes, that's definitely a plus for me. 
Apparently, you're now dying to see our star in his naked glory and this section is gonna give you exactly just that. 
This Greek-god-like hunk is freaking sexy and knows to carry himself in every situation. Most importantly, he knows his good angles pretty well. 
Oh, just try to imagine seeing him in action — getting a blowjob, sucking cocks, getting anal fucked. Ahh… I'm going crazy thinking of those. 
Mr. Bianchi is making me feel like I'm such a little perv. His confidence is overflowing and I just can't help but stop and stare. 
So, I hope I'm not keeping you waiting. Well, it's definitely worth the wait coz this compilation is gonna make your kinkiest desires cum alive.
Before you get bored, here are the pics I promised you. 
P.S. I'm feeling some Ethan Chase vibes on these photos.
Marco Bianchi Scrumptious Vid
Did you enjoy the still-images I've shown you in the previous section? Well, I hope you did. But lemme tell you this: what you're about to see next is gonna give you wet dreams every single night. 
So, here's a lustful short movie for you. 
Say Uncle * 1 Membership * 26 Premium Sites including
SAY UNCLE LABS 🍆

JUST LIKE THE MOVIES@marcoxxbianchi @edwardterrant & @AlexMonte791

👀 CLICK BELOW FOR PREMIUM GAY PORN 👀
🍆https://t.co/PFQnZDJQjT 🍆

RT 🔁 Like 💙 pic.twitter.com/vcGlWIlCe3

— Erotic Gay Fantasy (107K) (@EroticGayArt) February 10, 2021
Damn — that was intense, dude! I think that was the best gay threesome action I've ever seen my entire life. 
Ahh… this video left me breathless and speechless both at the same time. I mean, I really don't know what to say. All I know is the three of them have taken me to heights I've never been to before. 
I love how they embrace their sexualities and how they're loud and proud about their unique qualities. 
But of course, I can't deny the fact that my eyes were glued on our guy, Marco, during the entire scene. I can really see how he enjoys being a bottom and how he savors every fucking moment — like literally. 
With two on-screen partners, there's no doubt he'll reach the climax in no time!
This clip is proof that Marco really loves being fucked, licked, and sucked. And he always makes sure to return the favor by making them experience his unmatched fellatio skills. 
He's just a fantastic star that can take you to a whole new sex paradise. 
Marco Bianchi on Social Media