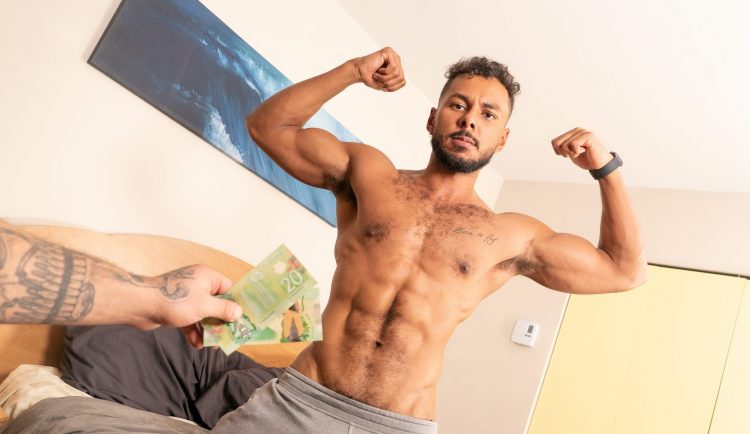 Do you have a thing for hairy Latinos? Well, I can't blame you as those furry bodies make them look extra macho. If you're crazy for those Latino hunks as much as I am, then you might want to check out the bold and sexy, Milo Madera. 
Apparently, you might be already aware of the reputation of Latin lovers in the porn biz. They seem to be born performers. 
Aside from having stunning visuals they're also pretty wild in bed – and that applies to both genders. 
Those are exactly the reasons why I can't help but check them out whenever I get the chance. I just don't want to miss out on any saucy releases. 
Anyway, about Milo, there's really not much information about him on the Web. But of course, that's not really a problem. What's important is he can help us realize our desires and fantasies. 
Well, with that body, he can be making your wet dreams cum alive. Other boys might envy him for having such a well-toned figure and regret the times they skipped their workout sessions. 
Milo has worked for numerous porn studios such as Raging Stallion, MASQULIN, Reality Dudes, and Stay Home Bro. 
Milo Madera Bio
Like I said earlier, there is limited information about our Latino Prince Charming. But I guess it's better than nothing, right? So, here you go… 
Hair Color:

Black

Eyes:

Brown

Ethnicity:

Latin

Dick:

Uncut

Tattoos:

Yes
Milo Madera Sexy Nudes
Since there are limited deets about our hottie, I guess it's right and fitting to present to you an erotic photo compilation that can aid your jerk-off sessions. You know, so you can see how mesmerizing his body is. 
If you're like me who really enjoys nude still-images, then you might really appreciate everything in this section. These pics have captured the perfect moments and you can ogle at them whenever you like, however long you want. 
You can even use these photos to set the mood in the bedroom. Try browsing this collection with your partner and see things take a sudden wild turn. 
But of course, you can still use them even without a partner. Solo sexin' is awesome too!
What's impressive about Milo is he never fails to show poise and elegance in every shot. He just knows his angles — and that's making him more irresistible. Oh, you'd surely have a hard time trying not to cum while looking at these. 
Oh, anyway, I think this is the right time to remind you to prepare your fapping essentials in advance to ensure a wonderful experience. You don't want to be running to the bathroom for some tissue if everything gets messy, do you? 
Now, enough with this chit-chat. I know you've been patiently waiting for these, so here they are. Enjoy!
Milo Madera Scrummy Vid
Do you want more? Well, of course, you do! I mean, who wouldn't be going all mad and horny after gazing at Milo's delish body. 
Apparently, you're still trying to catch your breath after that intense jerk-off experience to this cutie's cum-worthy photos. But you may want to brace yourselves for more — and this time, you're gonna be cumming more than you expect!
#JERKOFF in public😳 Wanna find out if I got caught 😈

👉https://t.co/svTNF9KB79 pic.twitter.com/vCAeG3BoOv

— Milo Madera (@MiloMaderaxxx) February 15, 2021
Oh my! What is our gorgeous Adonis doing? He's just standing there fapping his cock without a care in the world. And it looks like he's about to explode — oh good heavens!
Faster baby, just wank it harder!
But I think this isn't our lucky day coz the clip was cut short. We won't be able to see him orgasm. What a bummer, right? 
Well, don't worry because you can always check out Milo's porn movies or cam shows anytime you want. 
I think it's also worth noting he was fingering his bootyhole while stroking his massive penis. 
Milo is definitely that guy who can take you to wonderful places in sex paradise!
Milo Madera on Social Media