JustForFans Review
Scouring the web for an adult fan site with kinky performers may be challenging. But if you know where to look, then you won't need to waste a second of your time jumping from platform to platform. JustForFans (JustFor.Fans) is one of the sites you need to add to your bookmarks list because it is home to all the NSFW content to keep you jerking off nonstop! Heck, you won't have a shortage of naughty models' ass pics and videos at this ultimate adult blogging platform and marketplace!
As long as you are looking for a good OnlyFans alternative, then this equally dedicated adult site is a popular recommendation! But first, let's take a look at the company description, features, membership, and other details that you need to learn about the famed social media porn site.
Keep reading the review below to learn more!
What is JustForFans?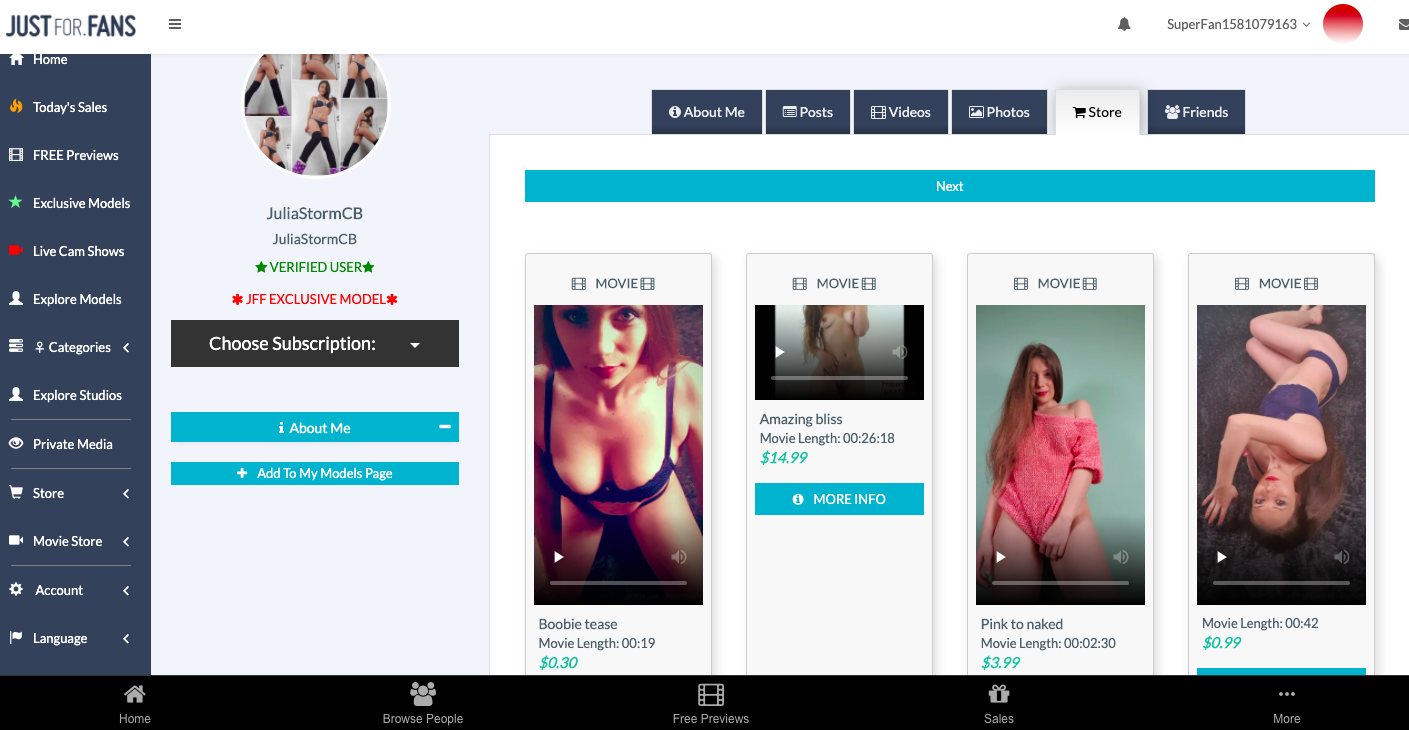 JustForFans is a social media porn site or an adult blogging platform and marketplace where sex workers from all walks of life can connect directly with their fans. The platform is literally bringing together those who are horny, and those who are in dire need of a following for all their kinky deeds!
Some people say that it's a hybrid of YouTube, Facebook, and eBay because you need to pay to subscribe to the people you want before seeing their NSFW photos and videos! Compared to other similar social media porn sites, JustForFans offers every user a comprehensive experience. This is because you can see the different sex cams, purchase clips or access a performer's Instagram or Snapchat, order items from stars, or even pay for sexting! Plus, you can filter for models based on what you want to see. That's right!
It doesn't matter whether you are a Latina living in America, or a horny Asian just looking to masturbate using all kinds of sex toys. If you have something to offer, then you might as well be a model here. That way, you'll have the chance to earn some extra cash with your clips.
You'll be joining the pool of other creators who are also escorts, strippers, porn stars, and live cam performers. Who says an amateur can't release ultra hot photos and videos, right? The models of JustForFans is also a mix of straights (male or female), LGBTQ, and non-binary. You will certainly find what you are looking for, and more!
How it Works
Compared to other adult porn sites like OnlyFans, ManyVids, and Fansly, this site has relatively fewer models. There are thousands of models here and enlists about 70+ photographers. But just because there are fewer people here doesn't mean the site is any less appealing.
If you are interested in all the hot and fap-worthy content, this is worth trying. The site has content creators that like to upload naughty content for their fans. On the other hand, the fans are the supporters and they pay a monthly fee just to access their favorite creator's materials – both photos and videos. If they want to explore other features, they are free to do so and can purchase items separately.
Just like other social media porn sites, JustForFans also takes a chunk of the creators' earnings for the website's maintenance and promotion. The rest of the earnings are all for the creators to enjoy.
Creating an Account on JustForFans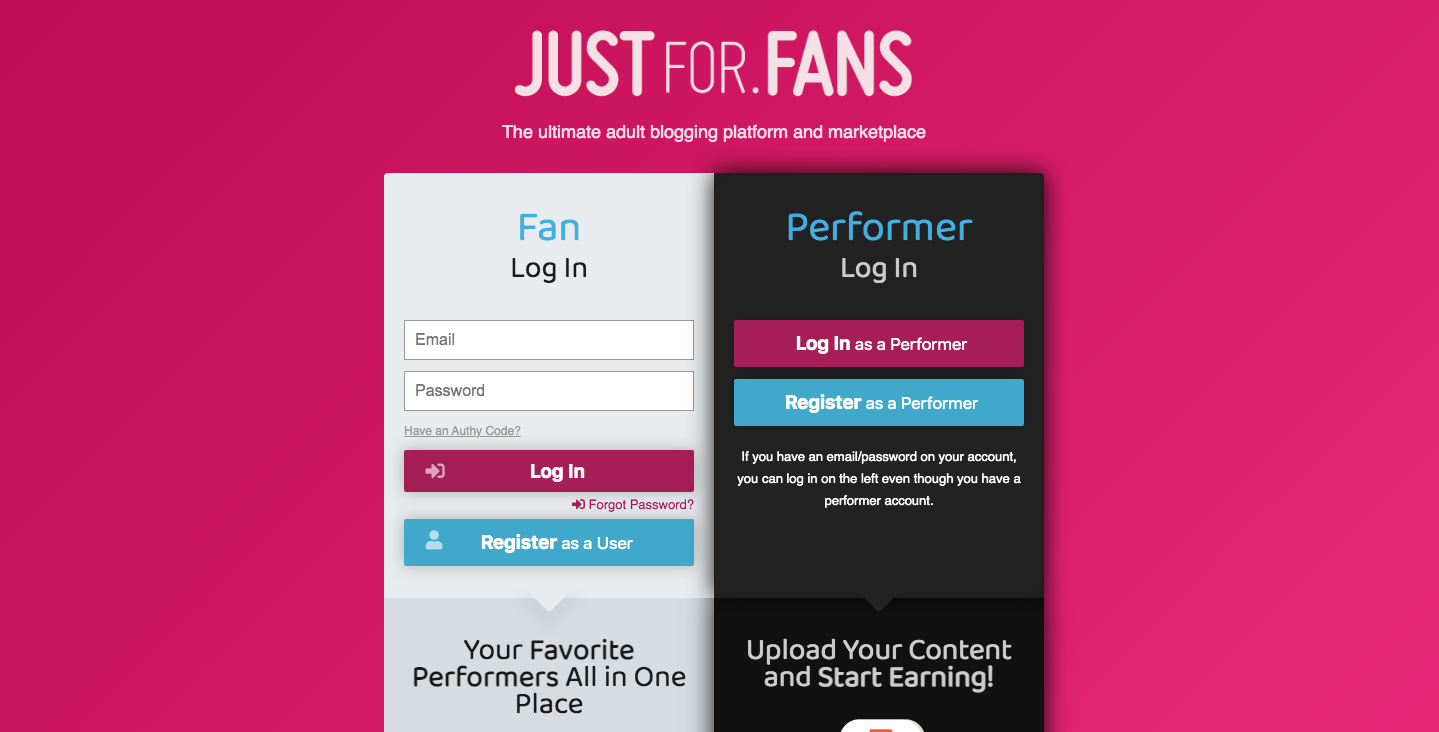 Join for FREE to enjoy naughty content guaranteed to drive you to the edge! If you want to join the platform, simply go to the main page and choose the Fan Log In. You'll easily see the "Register as User" sign there, so you'd want to click on that to get the ball rolling.
The site has free content and previews available, but the rest are premium.
JustForFans Affiliate Program
If you are looking to make money with JustForFans, that's possible! Their program pays 10% on all customer referrals and 5% on all model referrals. Even if you don't get naked or sell your kinky content on the website, you will still be able to enjoy such earnings.
It is also worth noting that the affiliate program is opt-in/opt-out, so performers should opt into promotion before you can earn.
Audience Appeal of JustForFans
We're not gonna lie. Even if JustForFans is a top social media porn site that welcomes all people from all walks of life, and is open to all genders and orientations, it seems to have more of an appeal to the gay male audience. If we look at the pool of creators, there are actually more gay adult stars and models. With this, you can expect the membership base to be more into that as well.
JustForFans vs. OnlyFans
Inarguably, OnlyFans has bigger brand recognition in the social media porn industry. The platform also gets more traffic and love from the audience. JustForFans gives the same offers as OnlyFans, partnered with a strong customer service team.
Content creators will be able to sell their individual clips to their loyal fanbase, receive tips when someone appreciates their work, indulge in naughty text messaging, and offer customized items for their fans. What they are lacking is the ability to do live stream videos, which as we know, is getting more and more popular these days.
But JustForFans doesn't really care about "kink bans" or other stuff like that, so it's good!
Our Verdict
JustForFans is a good OnlyFans alternative, although it's not really good enough to actually surpass it.
There are no kink bans

Full of fap-worthy content
Limited options for models and sex workers

Affiliate program is opt-in/ opt-out, so many performers would usually decline