IsMyGuy Review
Wherever you look, there's a big chance that you'll find adult entertainers and sexy performers take the stage like it's nobody's business! And are we even surprised? The industry is very profitable, and it allows individuals to thrive in a rich, comfortable, and sex-filled lifestyle. Aside from just watching pornstars in hot scenes or engaging in a steamy chatroom with cam models, why not try subscribing to see their delicious content? If you are looking for sexy male performers, you need not look further because that's exactly what IsMyGuy is for!
Be blessed with quality XXX content, and never worry about your next fap-worthy material. In this IsMyGuy review, you'll see what exactly makes this platform work for a lot of horny dudes. Plus, get to know its features, sign up process, rates, and more!
Are you ready to dig deeper? 
What is IsMyGuy?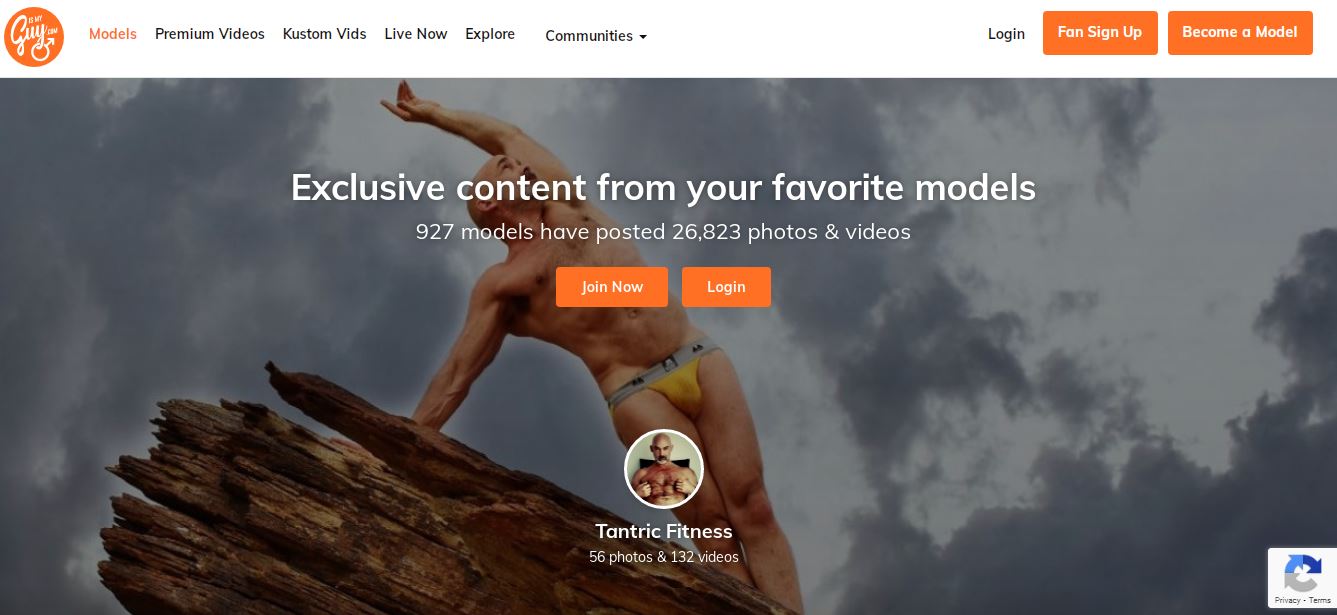 IsMyGuy is a premium social platform with a network of over 35 million followers which aims to bring horny followers and horny creators closer together. It claims to be a one-stop shop platform that empowers male models with the ability to convert fans into paying subscribers and monetize your brand and content.
It's the sister site of IsMyGirl, but is more dedicated to its opposite gender. Similar to how social media porn sites work, IsMyGuy lets the audience follow their favorite stars, purchase content, or even request all kinds of hot custom photos and videos! 
Name a wish and the models will grant it. Just be sure to subscribe and follow them!
Signing Up
FAN ACCOUNT: 
You don't have to do much to be able to enjoy IsMyGuy's features and offers. Signing up for a fan account is easy, and all you need to do is to input your username, email address, and password! Once you're done with that, you can enjoy a premium social experience and unlock premium content (photos and videos) from the models, direct message, try 1-on-1 video chat, and more! You can even tick the option to sign up using Twitter if you just want to connect that platform to this one!
MODEL: 
Aspiring sex models have a different sign up page, but that signing up is easy. In fact, the details you need to fill out at first only include your model name, email address, and password! After that, you will be asked to provide a government-issued ID to confirm your identity. 
Then, you need to wait for the email confirmation that your model application has been approved. You'll get a thorough explanation of what you need to do to get started, setting up your personal info (bank details, profile,) as well as tips on how to gain subscribers and maximize your profit in the shortest time possible.
IsMyGuy models will also receive their own vanity links (i.e. ismyguy.com/bluebailey) that they can share with their fans! 
There is So Much Naughty Content to See at IsMyGuy!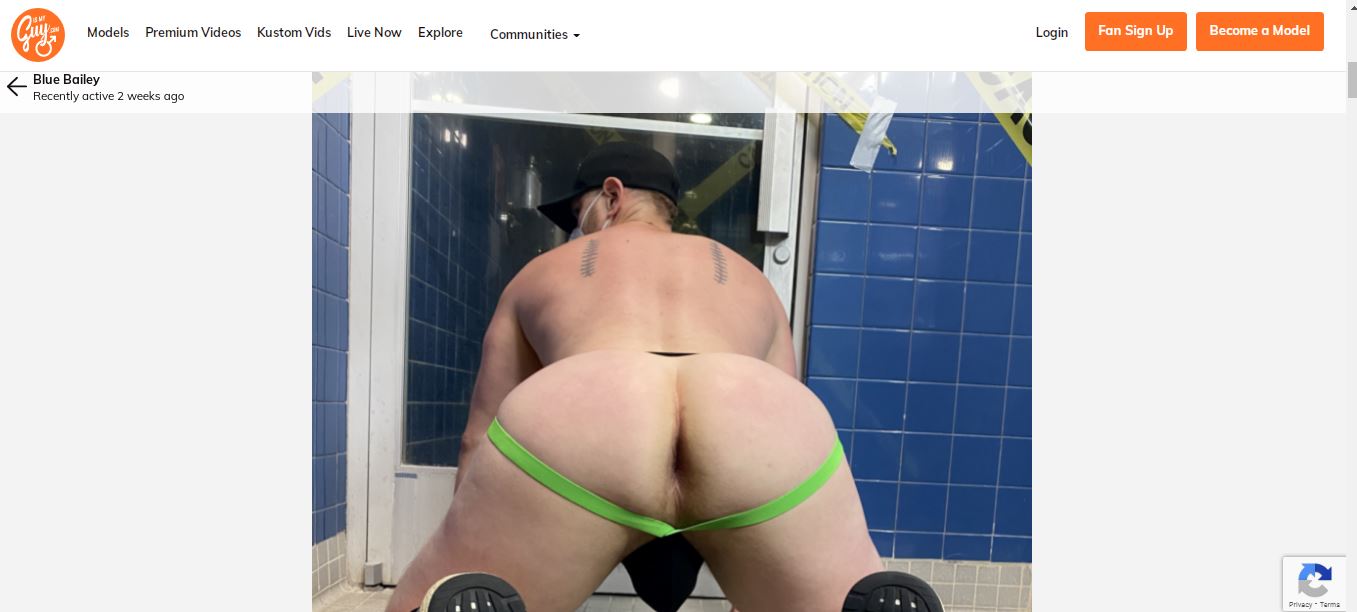 The great thing about this platform is that you will already find what you are looking for just by landing on the home page. It already says that it offers "exclusive content from your favorite models." To date, over 900 models have posted, with over 26,000 photos and videos. With the porn community's consumption of all things kinky, the numbers are expected to grow each passing day!
You'll be able to see the featured models and click on the thumbnail to be redirected to the model feed. 
Monthly Subscriptions of IsMyGuy
If you want to enjoy hot, kinky, and downright dirty content, then you are free to subscribe to your favorite models monthly! This gives you access to unlock exclusive content like photos, videos, direct messaging, and so much more.
Monthly subscription prices at IsMyGuy start at $10 and can be as high as $60 per month. The models set their own rates for their fans since they also control what they can see.
Note: Unless you cancel your sub, then the platform will automatically rebill you for the month. 
Make Money with IsMyGuy's Referral Program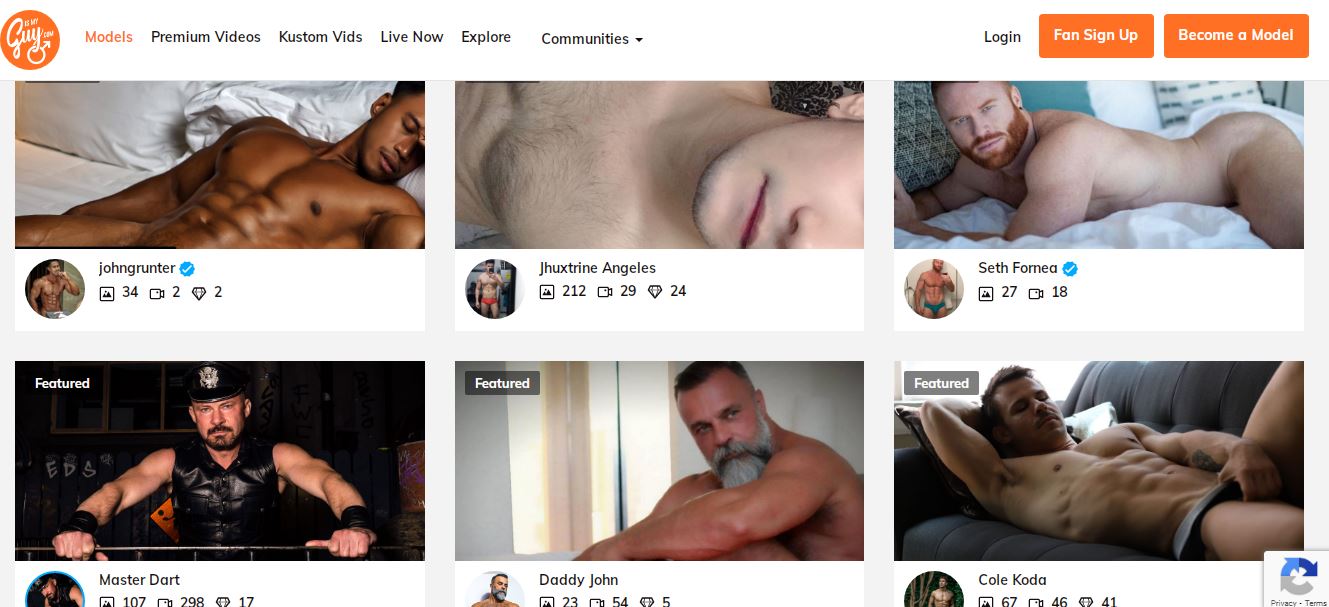 Some guys are contented with just watching other guys and gays get kinky on the internet. If you identify as the type who wants to lurk and watch, then at least don't shut the doors on IsMyGuy's referral program. 
Become the "recruiter" and invite models to sign up to start earning 5% commissions for life.
IsMyGuy vs. OnlyFans
The model count for IsMyGuy is at 900 while OnlyFans has thousands. All the more reason for you to try this platform because that means the models are more determined to stand out given that this is a "smaller sea." 
The male models are performers are also given the freedom to explore more niche fetishes if they want.
IsMyGuy also offers several ways for its performers to generate income. Aside from the monthly subscriptions that cost around $10 to $60, they can also charge for pay-to-view content from $10 to well over $350. Not everything has to include nudity. In fact, it's possible to have performers that are able to satisfy a niche without even stripping! 
We personally think that IsMyGuy is a social media porn site that is worth looking into!
Our IsMyGuy Review: 8/10
IsMyGuy may not be as popular compared to big social media porn platforms like OnlyFans or even IsMyGirl. But that doesn't mean you'd be disappointed after stepping foot here.
There is so much naughty content to see here such as photos and videos. Plus, you can get lost in the beautiful porn paradise anytime!
Full of quality XXX content, and fap-worthy materials

User-friendly website

Offers the chance to earn 5% commissions for life with their referral program
Fewer models and performers compared to other social media porn sites