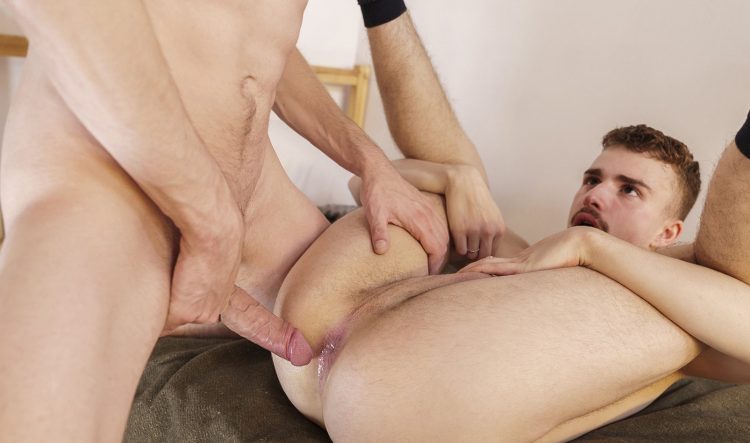 Do hot guys with mustaches turn you on? If they do, then you might be interested in adding Ryan Jacobs to your favorites list. His wonderful mustache can make your masturbation nights extra tingly and fun. 
This hunk is a Canadian hottie that's gonna ensure an orgasmic night for all of you. 
Oh, speaking of Canada, whenever I hear someone mention this place, I always think of breathtaking sceneries and beautiful landscapes. 
What's even more amazing is this place is the home to many popular and saucy stars in the adult biz. They're all prepped up to give one hell of a night. 
As for Ryan, he has successfully taken the porno world by storm with his adorable looks. Ahh… he's such a cutie — I can't deny that!
This handsome Adonis will complete your night with his superb talents in the bedroom. So, if I were you, I better keep a close eye on him. You know, so you can stay updated on his upcoming movies and shows. 
Ryan Jacobs Bio
I'm pretty sure you'd want to know everything about this guy. Unfortunately, there's really not much about him on the internet. Here are some of the awesome deets I found:
Age:

21 years old

Place:

Montreal, Quebec, Canada

Tattoos:

None

Piercings:

None
Ryan Jacobs Stunning Nudes
Are you ready to see the photo compilation I prepared for you? Well, you better be. These pics have driven me insane for weeks, and I have a good feeling it's gonna have a similar effect on you. 
I've to admit I had a hard time selecting images to include in the list. It's actually not a boring job but the exact opposite. 
The only problem was Ryan's irresistible physique. The longer I try to ogle at his photos, the hornier I become. And the next thing I notice is my other hand already fumbling its way inside my pants — it seems to have a mind of its own. 
So, you might want to view these nudes when you're 100% sure that you're all alone. I mean, you don't want anyone to disturb you from doing your thing. 
Now, let's get started!
Ryan Jacobs Sensuous Vid
I'm pretty sure you had your fun looking at Ryan's naked muscular body earlier. But wait — the excitement isn't over yet. In this section, you're going to see something more intense. 
I did a pull-up competition with @ethanchasexxx and @markuskage💪🏼 Of course I had no chance against them… however they gave me a good punishment after.😏🍆 It felt so good I couldn't control myself from moaning loud🤩 Go check FULL video on Onlyfans!!😍https://t.co/8WIVQTn4lo pic.twitter.com/73YpqaRZA4

— Ryan Jacobs (@theryanjacobs1) February 25, 2021
Holy moly! Our Prince Charming is getting wet and wild with the other two cuties in this vid. Oh, how I love watching him all satisfied. 
The men in the clip, Markus Kage and Ethan Chase are going the extra mile to ensure Ryan will remember this exquisite moment forever. Well, I'm sure he will! 
I don't have any idea if this is his first three-way action video, but he has surely shown everyone what he got. 
From what I heard, Ryan had a pull-up competition with his on-screen partners prior to this extreme sex show. And unfortunately, he lost. 
But I don't think he's unfortunate at all. I mean, with these two mesmerizing hunks punishing him for losing, it looks like he even hit the jackpot. 
Listen to his moans of pleasure, and you'll know what I'm talking about. You might even get the urge to play this video on repeat, so you can hear his lustful voice over and over again. 
It's quite evident that Ryan really enjoyed getting anal sex from Markus while Ethan is kissing him passionately. Oh, I know he'd be doing this again if given the chance. 
Anyway, as of this writing, this mustached hottie has worked for many famous porn production studios like MASQULIN, Men.com, Yes Father, and Dad Creep. 
If you wanna check out his works, you can start with the following titles: Men.com's "Birthday Bang" with Markus Kage, Yes Father's "Your Body Is Under My Care" with Teddy Torres and Dad Creep's "Dirty Valentine's Day" with Markus Kage.
Ryan is indeed a sensational male star truly deserving of all the attention he's getting. Let's keep our fingers crossed he continues gracing our screens with his jaw-dropping looks and top-notch skills. 
Ryan Jacobs on Social Media