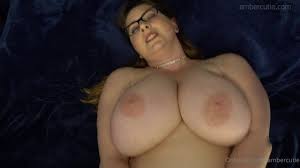 It's safe to say that AmberCutie is one of the early players in the game. Such experience comes with such performances too!
Not everyone would admit they do it for the money but Amber her says it herself that she does it to make tokens. She's been living the dream for more than a decade now as being a cam girl is her bread and butter.
She also does good with times because things weren't how it is now but she's still slaying it online!
AmberCutie Cam Girl Profile
Amber is on the curvier side of things which is nice because we'd love somebody soft to cuddle, right? This brunette cam girl has just the right balance for us to crave for her live streams.
There's a reason she's still in the game after all these years. Mind you, those large busts are also what made her fans to loyal to her!
NAME: AmberCutie
GENDER: Girl
ETHNICITY: Caucasian
EYES: Brown
HAIR: Brown
BODY TYPE: Curvy
HEIGHT: 5'4″
BUST: Large
AmberCutie Nudes
Amber may be laying low as she does live cams a little bit less than before but there's another way you can enjoy her and it's through her nudes!
Nude pics are what perpetualize an adult entertainer on the internet way past their retirement. That said, you'll still get the same fulfillment of seeing her stripped down in a still image.
AmberCutie gets wild!

She may be toning it down but we still have good memories of sweet Amber here. She may light up the chat rooms but pair that up with shows like these and it will simply make you want her more!
Plus, she values her fans a lot which is why you can get to squeeze something out of her every now and then.
AmberCutie On Her Socials
Amber might not be that visible on her actual live cams but at least she's got her social media accounts to keep you updated.