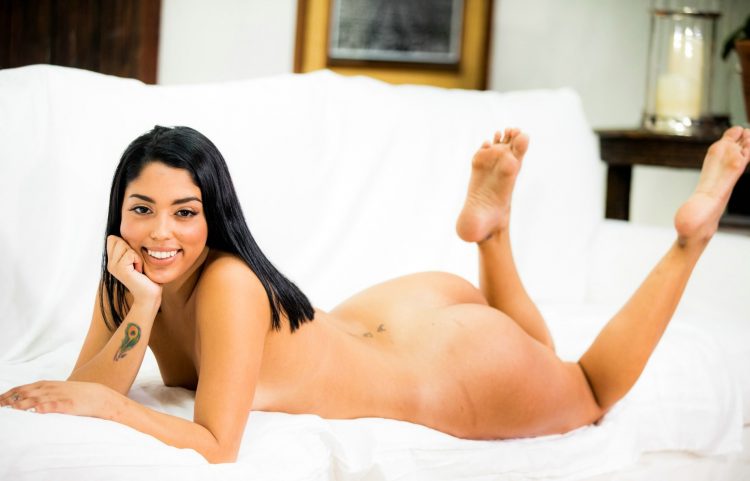 Born:

March 24, 1996

Birthplace:

Rapid City, South Dakota, United States

Ethnicity:

Latin

Hair Color:

Black

Eye Color:

Brown

Height:

5'3" (160 cm)

Bra Size:

34A
Do you have a favorite pornstar? Well, I know how hard it is to choose a few favorites as there are so many hot and sexy chicks in the industry. 
But if you're really interested in fapping on the best babes in the biz, then you may want to begin your search in the Latina category. They got natural tans and incredible figures to die for. Always looking so delectable that you might want to lick them from head to toe. 
What I really like most about them is their jaw-dropping curves. You can go to the ends of the Earth and still not find perfect curvy physiques as these Latinas have. 
And let's not forget about their freaking wild attitude in bed that can drive you crazy. It seems like they're born to fuck and to be fucked. 
If you ask me, I really don't enjoy porn movies of monotonous women. I mean, I'd like it very much if the vixen I'm watching loves all the banging she's receiving. Their facial expressions would say it all!
Moreover, Latina gals are fascinated with exploring their sexuality. 
So I guess if I'm doing the math right…
Beautiful bods + an endless love for extreme sex = perfection!
If you don't have any Latina bombshells on your favorites list, maybe you can consider Vanessa Sky. 
For those who aren't familiar with this siren, let's get to know her better in this article. 
A Latina with a charming smile
Perhaps it's fitting to start with Vanessa's personal details. So, this naughty goddess was born on March 24, 1996, in Rapid City, South Dakota, United States. 
One look at her, and you'll know that Latin blood is running through her veins — mesmerizing brown eyes and shiny black hair. 
Vanessa is 5'3" tall and got cute boobies the size of 34A. If you love small tit women, then you might fall in love with this beauty's body. 
She's a lover of body art. In fact, she got numerous tattoos all over her body. A dog on her hip, a heart on her ankle, a tiger and lyrics from a Billy Joel song on her arm, a gun pointed downward on her left hip, a peacock feather on her right wrist, a treble note behind her ear, roses across her right shoulder, and a column of chakra symbols traveling down her back. 
That's quite a lot of tattoos, right? She even got a piercing on her navel. 
Vanessa has been entertaining porn lovers since 2017, and you can easily spot her because of her fantastic curves and titillating body. 
Most of her porn movies were produced by some of the most popular porn productions like Evil Angel DVDs, Kink.com, and Burning Angel. 
This sex kitten was raised in Miami, Florida but is presently residing in Los Angeles, California. Her mom and dad are both from Cuba, so there's no doubt that she's a pure-blooded Latina. 
She might be born and raised in the United States, but her heart belongs to the Cuban heritage. She even sees to it that she gets to visit her parents' hometown every year. According to Vanessa, there's so much to love about Cuba, and she enjoys spending her time there. 
When she was five years old, she learned how to play the piano and started painting. That's pretty impressive, don't you think?
She likes doing abstract artwork. She even shared during one of her interviews that it can get messy when she paints. Well, I'd love to see her in a messy scene. You know, something where she can show what she's passionate about — painting and getting laid!
During her high school years, she was considered to be one of the friendliest babes in school. She's outgoing, and her name is known to every kid in school. She was also famous for doing all the crazy stuff you could imagine. 
One of her most unforgettable high school memories was when she ran to the cafeteria buck naked. She was only covering her yummylicious assets with a banner. What an adventurous bombshell!
But wait… there's another event she might never forget her whole life. It's the day she lost her virginity to her boyfriend. He was so freaking lucky to be all her firsts — including Vanessa's first heartbreak. 
When they decided to part ways, she admitted that she was devastated that she became disinterested in dating and fooled around with several guys. 
At the age of 19, she discovered the world of porn. Since then, her life has changed. She was able to get into the business with the help of one of her friends. 
BangBros produced her earliest scenes, so you might want to start with those for your jerk off session tonight. 
Here's my final say
Vanessa is the type of girl who never fails to amaze me. So, if I were you, I'd check her out as soon as I can.