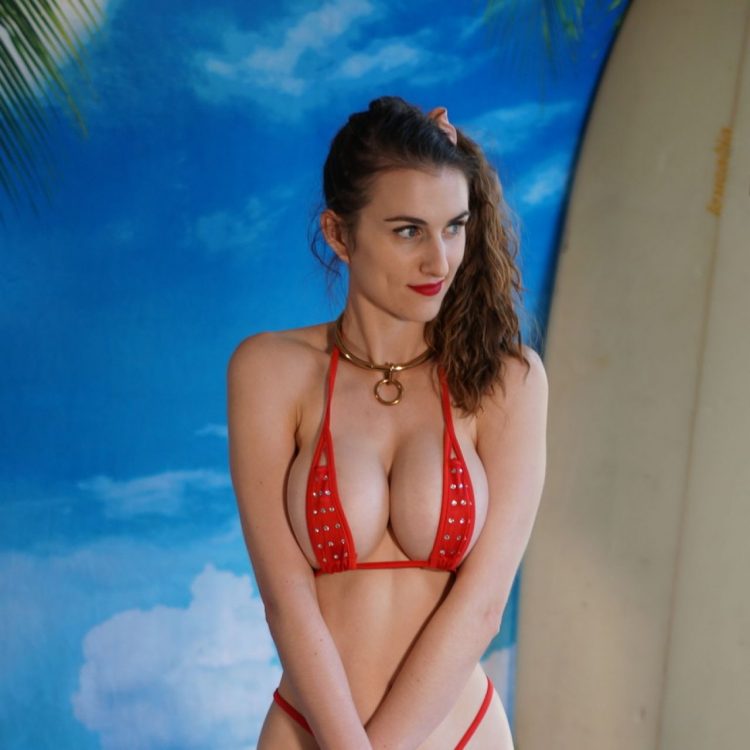 Blowjobs, anyone? If you're one who is crazy about models giving blowjobs, I'm sure you've heard of Piper Blush. She is a Canadian porn star, adult model, and film writer. This performer has appeared on some well-known sites like The Art of Blowjob and The Art of Cunnilingus.
If you've been following her, you'd come by her diary and notes. She once shared that her "greatest satisfaction comes from giving blowjobs." She considers giving any man a blowjob to be her huge turn-on.
She also mostly enjoys giving blowjobs in her films, and even watches them over and over again to improve her performances!
In any case, now that we know more about Piper, let's take a look at some of her best nude photos that can turn us on, too!
Piper Blush in Sexy Sassy Outfits
Doesn't she just look incredibly hot in her cowboy outfit here? And man, look at those sexy curves, not to mention her nice breasts and the lines of her ass revealed by her tight little shorts. And Piper nibbling on that stick just makes her look hotter, don't you think?
Here's another photo of her in glorious ivory overall with a hood. It's as if she's the Queen of the Ice or a Snow Princess, maybe? Anyway, I just love how this dress reveals some of those succulent tits and her navel.
Sold my vid! A Voyeur's View https://t.co/4OKTM2CqcC #MVSales pic.twitter.com/eirQWUVM2B

— Piper Blush (@PiperBlush) May 2, 2021
I've always loved the wavy locks of this pretty woman and boy, does she look gorgeous on this one! This amazing white dress with a matching cape matches her petite body and actually highlights her ocean blue eyes.
How about some tropical-themed outfit? Yes, please! Here's Piper Blush wreathed in a garland of flowers to cover her exposed boobies, which is just oh-so-fantastic.
By now you can see that whatever seasonal background Piper Blush is in—may it be autumn, summer, or winter, she remains as incredibly pretty as ever. In this nude pic, she wears a silk red bra as her only top, which barely holds her breasts. She also wears her matching jacket taken off to reveal most of her milky skin.
Now, this pic of her wearing a blue nightgown just turned me on. And notice those dimples on her cheek that we can see for the first time! How I wish I can go to bed with this pretty lady and have some fun with her, if you know what I mean.
Wow! A wet Piper Blush fresh from the shower with that wet, devilish look! She looks stunning here with her laced long-sleeved top showing her pointed nipples and tits. And look! We almost see her lady part down below if not for that darn heart-shaped box (of chocolates, perhaps?)!
Piper Blush in her Amazing Bikini
On to her Piper's bikini collection! I'd like to start with a bang and since we have yet to see her nice ass, I decided to start with this. If I'm here on this photo, I would just want to spank her butt cheeks already!
A pony-tailed girl-next-door Piper Blush in her light blue bikini plays with the hose in this shot. This is also one of the rare moments where I actually simple enjoy this model as she is—fun-loving and pure.
Another photo of this Canadian star showing her beautiful ass as she walks by the seashore. You might think that I'm really into Piper's awesome bum and you guessed it right, I'm in love with it!
Ah, I just love this shot, not only because of Piper's pose showing her stunning body figure but also because the ocean waves are captured roaring behind her. I also notice she keeps raising her hands to show her full body figure in this similar photoshoot.
We see a bolder and more sassy-looking Piper Blush right here, folks. Fierce red lipstick, single ponytail, her dimple showing again, and a very thin see-through bra revealing her pointed nipples that seem to be saying, "Suck me now, baby!"
I'm sure you also thought Piper's buck-naked in this shot. Don't worry, I was fooled like you were. She's actually wearing a silk skin-toned two-piece bikini while doing her meditation (in Buddha position) by the beach.
And yes, another of Piper's in-fucking-credible ass! She's now on bed with this shot, and how I wish I was there with her, even as her photographer so that I could already spank the hell out of it!
Piper's Big Tits Revealed
Wow! I'm speechless! One nipple out and we see that Piper had it clipped with a ring, which makes it look more erotic! And go ahead, zoom in right down below… Yes, you got it right, we see her clean, shaven pussy for the first time, too! Try not to jerk off on that!
In this image, we see Piper flaunting her beautiful breasts… Just when do I get to suck those babies? Well, I'll leave it to my wild imagination, I guess…
We see another fierce look and photo of Piper here showing off her boobies that are barely held by her mini bra. Hmmm, I wonder if she just uses this one at home?
You know I get a tad harder every time Piper plays with her hair and shows her really cute dimple like in this photo. Her white dress with some nice blue and red patterns also matches well with her silky skin.
How about some wet Piper Blush playing on the beach on her bra-less shirt and panties? Hook yourself up with these photos, then! Enjoy!
I guess Piper just loves swimming, because now this one's showing our Canadian model stark-naked in the pool.
Here's another one but now she's coming out of the pool. Those pointed nipples showing beneath her shirt are really one helluva of a sight, aren't they?
Talk about some flaming red laced top showing some of her nice boobies! And don't forget that cunning look and awesome dimple!
Now, what do we have here? In this side shot (where we still see most of Piper's breasts), we some cool tattoo etched just beneath one of her perfectly round boobs. I wonder if those stars have some meaning?
Piper Blush Stark-Naked
I know you've been waiting for some real exclusive photos of Piper Blush where she's naked to the bone, so here they are!
Don't you just love this portrait of hers? Just look at those large breasts and hardened nipples! I don't know about you but I'm dying to suck them already!
Yeah, that's more like it… Now we see Piper here lying on a big blue cushion in her glorious nakedness. I'd love to have a taste of those shaven pussy, too… Oh, Piper, when can I take you home, darling?
I find this photo really sensual and erotic because of the perfect lighting and camerawork. It shows Piper's bulbous breasts the perfect linings of her juicy ass and her beautiful, beautiful curves.
Bonus! Piper Blush Caught Titty-Fucking
Think the nude photo gallery ends in Piper's stark-naked photos? Well, I've got some bonus pics for you! These images just caught my interest on the Internet and wowed me beyond words.
In these images we see Piper Blush giving this lucky guy a nice titty-fucking, and if you look closely enough, you'd see some cum coming out of his junior, too! How lucky could this stud get?
My Final Words
Did you enjoy this photo gallery of Piper Blush in her nude pics?
Jerk off to more naked photos of adult models and pornstars. Check out Julia Rose's lust-worthy pictures and zzVioletZz's deliciously hot nude photos, too!