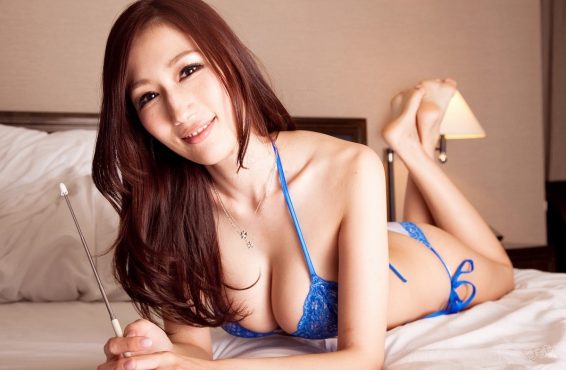 The porn world is jam-packed with ladies of different ethnicities — and we can't deny that all of them are equally hot. But of course, having a favorite is inevitable. Some of you might be into Latina ladies, ebony chicks, or blonde babes. If not, then maybe Asian hotties turn you on the most. 
If you love Asian girls then let's do a virtual fist bump, bro — you're one of us now!
Let's face it — it's hard not to get a boner at the sight of a stunning Asian chick. And when she starts to strip off her clothes, things will get steamier!
That said, we feel like we'd want to share with you a list of the hottest Asian porn stars this 2020. So what are you waiting for — find someplace where you can be alone and check these Asian cam sluts now!
Asa Akira
It's hard to talk about Asian porn stars without mentioning Asa Akira's name. She's been in the adult industry for 12 years, so if you're a legit porn lover, then you apparently know her. Akira is famous in the rough sex and interracial anal category.
And yes, she got several awards for that. 
Jade Kush
This chick's first appearance was on Brazzers in 2018 —  the same time she lost her virginity. 
From there, she reached half a million views and thousands of likes. Others were even asking for a sequel — and they weren't disappointed. Only a couple of years in the industry and Jade's career is already skyrocketing!
Marica Hase
Marica was born and raised in Japan but later flew to America where she has a penchant for big black cocks. 
If we're going to describe her, she's beautiful, slim, and very nasty. Well, her kinkiness is exactly the reason why she's in BDSM, interracial, and squirting scenes. 
Kaylani Lei
It's impossible not to notice this Asian babe with her piercings, tattoos, and plump breasts. 
When it comes to porno action, she loves getting naughty with fake dicks, anal fun, roleplaying, and getting oiled up for some teasing session. And you can easily recognize her with those high heels. 
Vina Sky
Although it's quite normal seeing "skinny" Asian babes in porn paradise, Vina Sky has managed to make herself stand out from the crowd. As a matter of fact, she's the most favored Vietnamese adult performer. 
Well, with her great ass and nice lady parts, it's not hard to see why men go gaga over her. 
Christy Love
Lo and behold, the Asian squirting mistress, Christy Love! She seems to enjoy keeping her pussy hydrated and moist. 
You can see her vids in the solo sessions and glory hole category. Christy can offer variety which can keep you cumming back for more. 
Annie Cruz
This dark Asian babe loves to flaunt her lovely-looking ass on the camera. But aside from that, she's also into massage sex, deepthroating, lesbian milk enemas, and DP anal. Very intense sessions…bingo! 
Well, it seems that she believes in the saying that "the crazier, the better." And she's one mad smutty porn star!
Morgan Lee
An Asian with an English first name! Don't fret, she might have an English name but she's definitely Asian. 
So if you get off on gangbangs and creampies, she's the one you should check out on your favorite go-to site.
Honey Moon
That's one bizarre screen name, don't you think? But the important thing is she knows how to satisfy us with her luscious flicks. 
Love watching BJ scenes? Honey Moon can give you plenty of that. She sucks dicks like it's her job — well, basically, it really is. 
Sharon Lee
Here's another hot babe on the list, hailing all the way from Japan. 
If you're looking for some fellatios, you won't get that from her. You want to know why? It's because she is all about erotica, glamour porn, and the like. Although these categories are designed for women, they'll probably work on macho men too.
Aimi Yoshikawa
Well, what do we have here? A legit Asian girl with a real Japanese name. 
Although her clips are usually pixelated or what you call "censored", we can't deny the fact that she's a total looker. Just look at that cute face and gorgeous tits. What more could you ask for, right? 
Here's our final say
Now, what's next? Well, maybe you can go to your room, lock the door, visit your favorite tube site, and search for one of these Asian babes. After you finish checking out all of these stunning ladies, you'd more or less have multiple orgasms. 
Let's hope you have plenty of energy for an extended masturbation session.