sex.com/gifs Review
Sex.com is a fantastic pornographic website that has been in operation for quite some time. Because it provides high-quality content, the site has garnered massive appeal among porn aficionados. 
Nowadays, GIFs have surpassed videos in popularity. Sex.com knows that. Of course, viewers' satisfaction is what they're aiming for, so they have an entire section built entirely just for these fiery GIFS!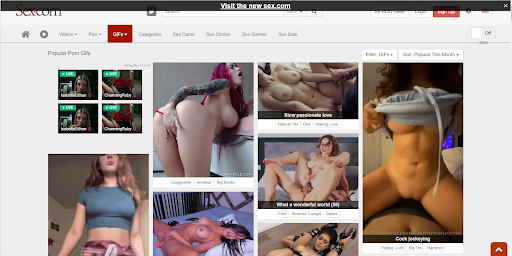 Porn GIF is the New Real Deal
GIFs are fantastic because they save you time. Instead of waiting for a certain saucy sequence to play out in a 30-minute video, you can do it in a single GIF that is less than a minute in length instead. 
They are a fantastic approach to have some sexy pleasure; jerking off to some GIFs is just as enjoyable as jerking off to some regular pornography. If you're one of those porn enthusiasts that like erotic GIFs, you don't need to look further as sex.com has everything you need.
Sex.com's GIF Page
Appealing homepages typically promise a plethora of good content. The homepage of Sex.com is visually appealing and well-designed. The most popular GIFs are featured on the homepage. It's so visually striking that you may not even want to visit other areas of the website.
The GIFs on the homepage are already so fantastic.  You'll watch girls mounting dicks, delivering bj's, and squirting in clear GIFs that are high-quality and crystal clear. The sensation you're about to have on the homepage would be enough to make you horny on its own. The GIFs are set to autoplay, so all you have to do is sit back and enjoy.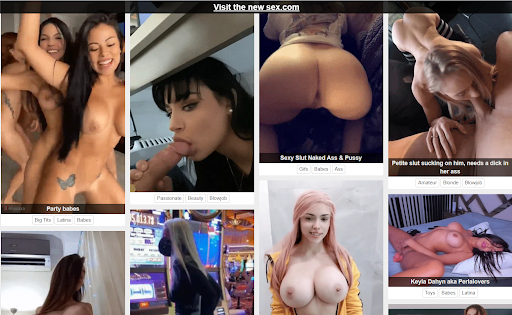 In order to prevent GIFs from playing while you're navigating, you can disable auto-play for GIFs in your browser settings. To turn off autoplay, click on the on/off button on top of the page. When you turn off the autoplay option for GIFs, they will remain static as photos; to see them as GIFs, either click on them or turn on the autoplay feature for them.
Tags on sex.com are accompanied by other information; for example, you may see the tags for the GIFs, reviews, and the description.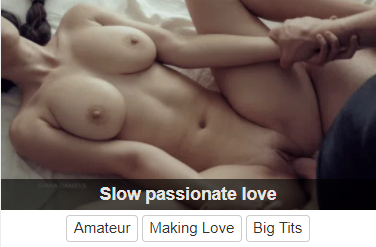 The number of people who liked the GIFs and the number of people who pinned them is also displayed. Sex.com also allows you to browse tiny sections of sexy models who have similar tags to your search criteria. This allows you to browse through a large amount of content similar to your desires.
Sex.com/gif Search Features
Sex.com is a website that enhances your sexual experience to the fullest. On the GIF page of the website, there's a convenient search feature. 
The function can be used to look for anything on the website using the search bar. The site, on the other hand, doesn't have an advanced search feature. As a result, you're unable to filter down your options. 

Meanwhile, the search feature is still useful, effective, and quick. You can also filter the GIFs by popularity, best of all time, and date of posting, among other criteria.
Conclusion
Ultimately, sex.com/gifs is a terrific page to visit if you enjoy seeing brief, intense clips of fucking action. Discover new faves, fawn over the horny novice girls, and jerk it to one of the most comprehensive collections of content available anywhere. Most importantly, it's all completely free! That's a freaking impossible feat to match.