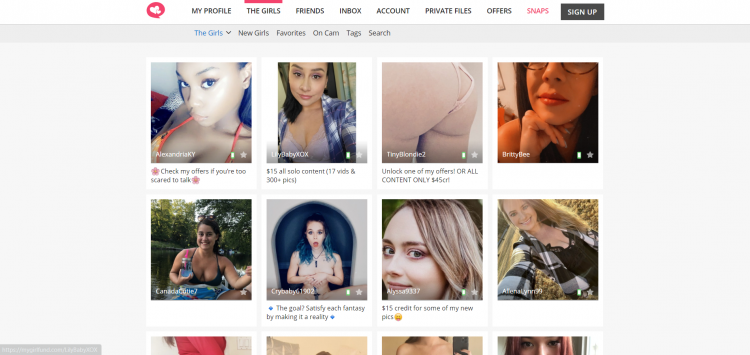 MyGirlFund Review
Too young to be a sugar daddy but too rich to be alone? or Too scared of commitment yet looking for someone you can call "yours"? Whether you are either of the two or something else, you might want to check this site called MyGirlFund!
This place is perfect for generous men looking for women who can keep them accompanied behind the screen. MyGirlFund is strictly prohibiting their girls and male visitors from meeting in real life nor sharing anything that's considered "too personal" (like names, addresses, or anything related to their real-world).
I was mindblown and touched at the same time when I found out about MyGirlFund. Mindblown because I never thought GF experience was already a thing in the early 2010s, even before
Although it may sound as good as is, there are still some things we need to consider before we utter our verdicts. Continue reading to find out more about this one-of-a-kind dating/content selling site.
Welcome to MyGirlFund
I knew about it last 2020. Touched because I thought it's all about platonic shit. But I was wrong; it's not as wholesome as a generous man splurging money on a young woman stuck in her college debt– you know, something just to help her in exchange for nothing.
Once you type mygirlfund.com on your browser and clicked enter, you will be directed to the site's landing page. Since the contents are exclusive, there are only a few things you'll see. The largest and first thing you'll see is the login/sign-up box.
Above that is the allotted space for other stuff like their about, FAQs, reviews, and a couple of galleries where you can take a peek at some of MyGirlFund's hottest chicks.
Although there are some occurrences of the said scenario, there are some men who crave more.
Signing up for MyGirlFund
MyGirlFund lets you sign up to their site for free but you will only be given limited access. To make the most out of it, you will need to avail yourself of premium membership for $39.97. In exchange, you will be given extra 35 credits (which serves as the site's currency),credit discounts, two-way video chat, send private photos, and many others.
Since what I saw is quite simple (I know you agree), I accepted my curious brain's challenge and signed up using my gaming email. Once done signing up, I was directed right away to my profile. There's nothing much asked aside from my username and a strong password. It's also optional if I want to upload my photo or not.
What lies ahead
Regardless of providing a photo of you (or someone else's), you'll still get to meet ladies here. In fact, I was approached by two women here a few minutes after I made my account. You'll also get three message trials that you can use to reply.
Under your profile, you may also check the girls' feedbacks, which I assume is visible to other girls, so they can know if you've been a good client or deserves to be deserted in loneliness. You may also check how many visits your profile has.
The News Feed got me a little excited, but it turns out to be as plain as middle school homework. There's literally a plain ass list of announcements like winners of their weekly/monthly contests and site updates.
Alongside the My Profile tab, you will see other tabs dedicated to whatever it says–The Girls, Friends, Inbox, Account, Private Files, Offer, Snaps, and Logout.
Need company?
I decided to check out the girls again, but this time with an account. There are so many naturally beautiful girls here. There's a lot to choose from. But no worries because if entertaining two or more girls is within your means then there's no problem. Some of them may look a little older than the rest (something close to a MILF) but, boy. They aged like a fine wine.
Despite having a wide range of options, I noticed that most of them are light-skinned. May it be Latina or Asian, they have a light complexion. I was low-key looking for some black beauties, but I'm kind of having a hard time spotting one. I'm, not just sure if my location is to blame.
I also noticed that some photos are old and low-budget and some are high-key. Plus, I find it funny that they market this as something "for companionship" but some girls here seem to be hoeing out to gain clients. Well, that's understandable, but that could bamboozle some other people who really think it's for some wholesome/platonic/no-label relationship.
Final thoughts on MyGirlFund
I can't totally say that MyGirlFund isn't bad after all. Given that both parties are beneficial towards each other– one is giving companionship and the other one is helping financially–There are some things that I can't claim, especially for the companions' ends. I don't want to discuss further, I mean come on this is a porn site review, but upon my research, I found something on Reddit that was posted by a former companion on this site. She confessed that MyGirlFund isn't that well regulated. She also said that some dudes are fetishizing some companions' rape and asked her the complete details of how it was done so he could jack off to it. So yeah, visitors better have clean intentions if they want to keep MyGirlFund a safe place. If they're looking for something forbidden, go visit Motherless.
Hot Models

Social Media feel

Connect with a bunch of hotties
Needs time to grow

Site can use more tools