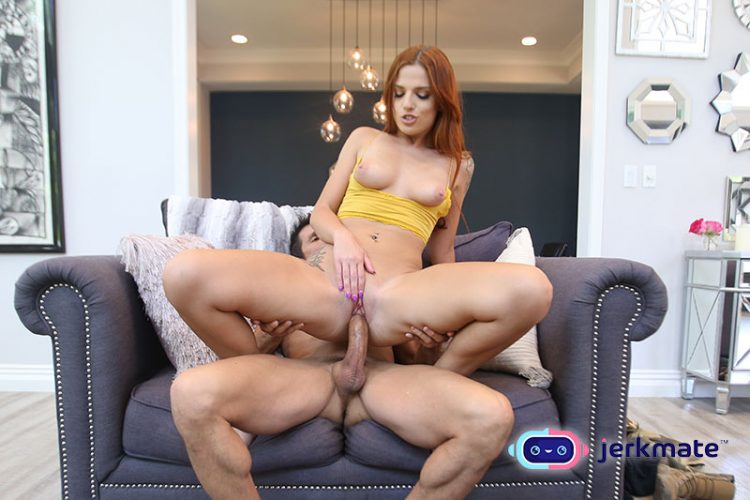 Sometimes, all you want to do is to look at a slutty redhead's nude photos and jerk off 'til you cum. But do you know what's better than that? I do! It's looking at a slutty redhead get dicked by a hot stud. For instance, Scarlett Mae looks particularly delicious and ravishing as she fucks her partner.
It's so tempting and I just want to fantasize about pounding her hard and fast right now. But before we get to that, why don't we give a little refresher about this beauty?
For those who are not familiar with Scarlett Mae, you probably recognize her from different scenes for Reality Kings, mofos.com, Amature Allure, Dad Crush, ATK Girlfriends, and Erotique TV Live among many others.
Scarlett Mae Personal Information
This gorgeous babe also performs under a different name or Scarlett Minx.
A little bit of history – she loved sex from a young age and just got addicted to the whole porn business as soon she was of legal age. When she realized she was capable of making decisions, she immediately sought out adult model agencies to try her luck. I guess we need to thank our lucky stars, because she's been in the porn world ever since. She is definitely a blessing to the community!
Scarlett Mae was born in Franklin, Ohio and has perky 34B cup tits that jiggle wonderfully and I can just replay it over and over again. We're not exaggerating, but she is one of the best starlets you can jerk off to whenever your nights are getting kinda lonely. Oh yes, she is.
Hot Sexy Photos of Scarlett Mae
It's not everyday you see Scarlett Mae get fucked by a hot stud. And if you can see her getting dicked, then you need to focus your attention and look at the gallery thoroughly. That way, you'd get to admire her perky breasts, smooth and flawless pussy, as well as her seductive pleasured facial expressions! She's such a pro at what she does, and it's making me super horny!
Before Scarlett got into the adult entertainment industry, she used to be so nervous when she would take her clothes off and fuck in front of a camera. But not, look at her go! Her sexual appeal is off the charts! It also looks like she has picked up a few skills during her previous stints. You've got to admire her good work!
She's riding her man's dick like she's a damn good equestrian. And after that, she can go down on all fours and ready her glorious hole for the good fuck.
And if we're speaking of blowjobs, you can see from the photos just how much she likes it! If her guy fucks her in the mouth or "force" her to a deepthroat, I bet she'd be willing to have her brain get all blown out! She is nothing short of amazing.
Plus, look at her wear that cum in her breast like a badge of honor. No wonder she's one of the most watched cam girls and pornstars today!
Best sites to watch more Scarlett Mae Porn Pictures and Videos: