What is BimBim?
For almost two decades, the award-winning team AW Empire started their well-known live cam sites like Live Jasmin. As much as I enjoyed that one, there's another site they just released that I'm getting obsessed with. I learned it's made with their content creators in mind. They've optimized their business strategy to reduce additional fees for creators, ensuring that anyone who enters BimBim keeps 100% of their earnings. How cool is that? So the babes you tip get the full cut!
Hang on though, because things are about to get hot.
BimBim is designed to be utilized on mobile. This isn't any typical cam site though. It's more of a social media application where I can engage with the site's models and view their content. Why stay on Instagram and TikTok if there's one right here that almost has the same features— the only big difference is BimBim's saucier content nude cam girls! In my case, I used the desktop site and it's also great because I got an even wider view of the live models.
This cam site also never runs out of new content. Once logged in, there's a wall where I can choose from any of the shows that are happening live. (I'll talk about more exciting features later)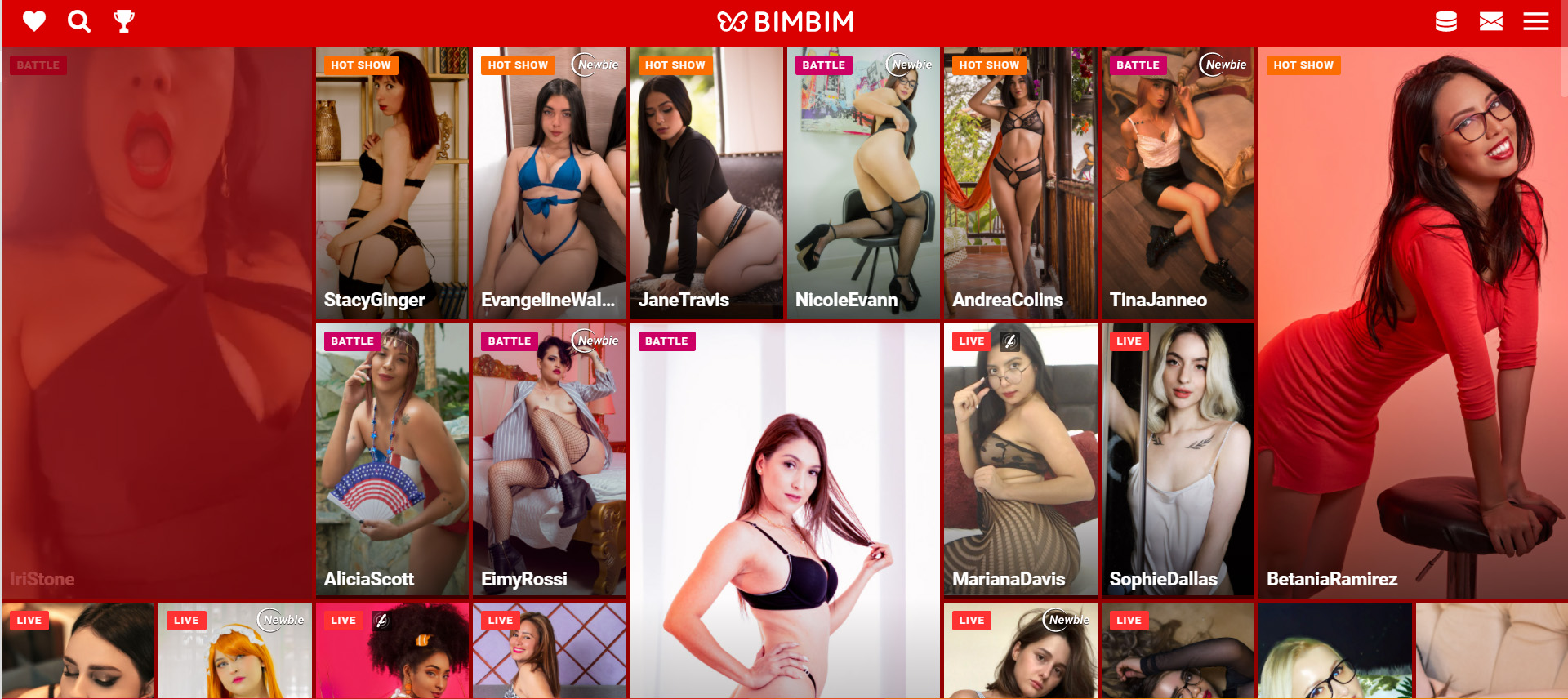 Members of BimBim get access to a variety of features, including unlimited free chat, stories similar to those that can be found on the upper part of Facebook or Instagram, free calls, and paid video chats.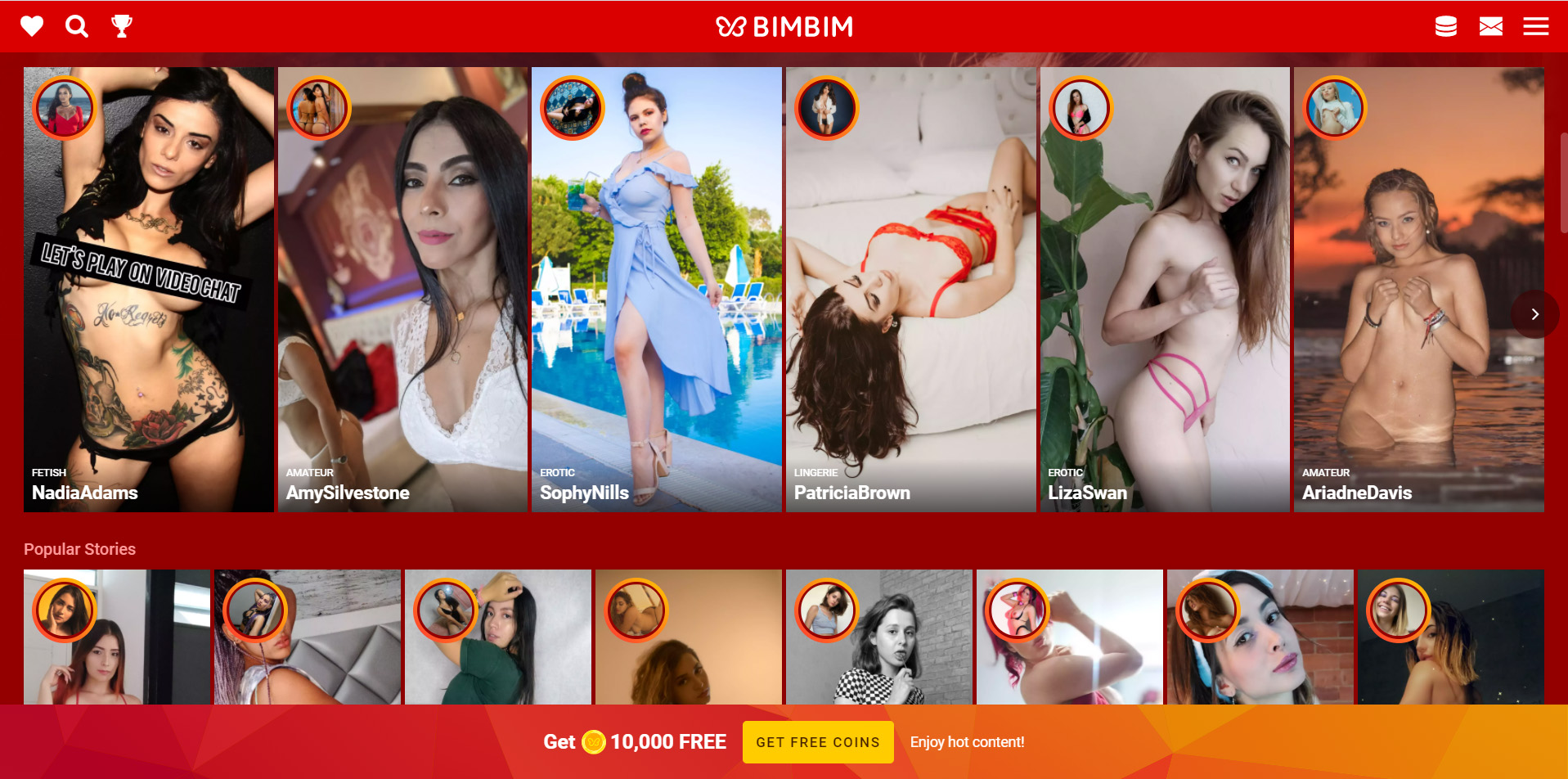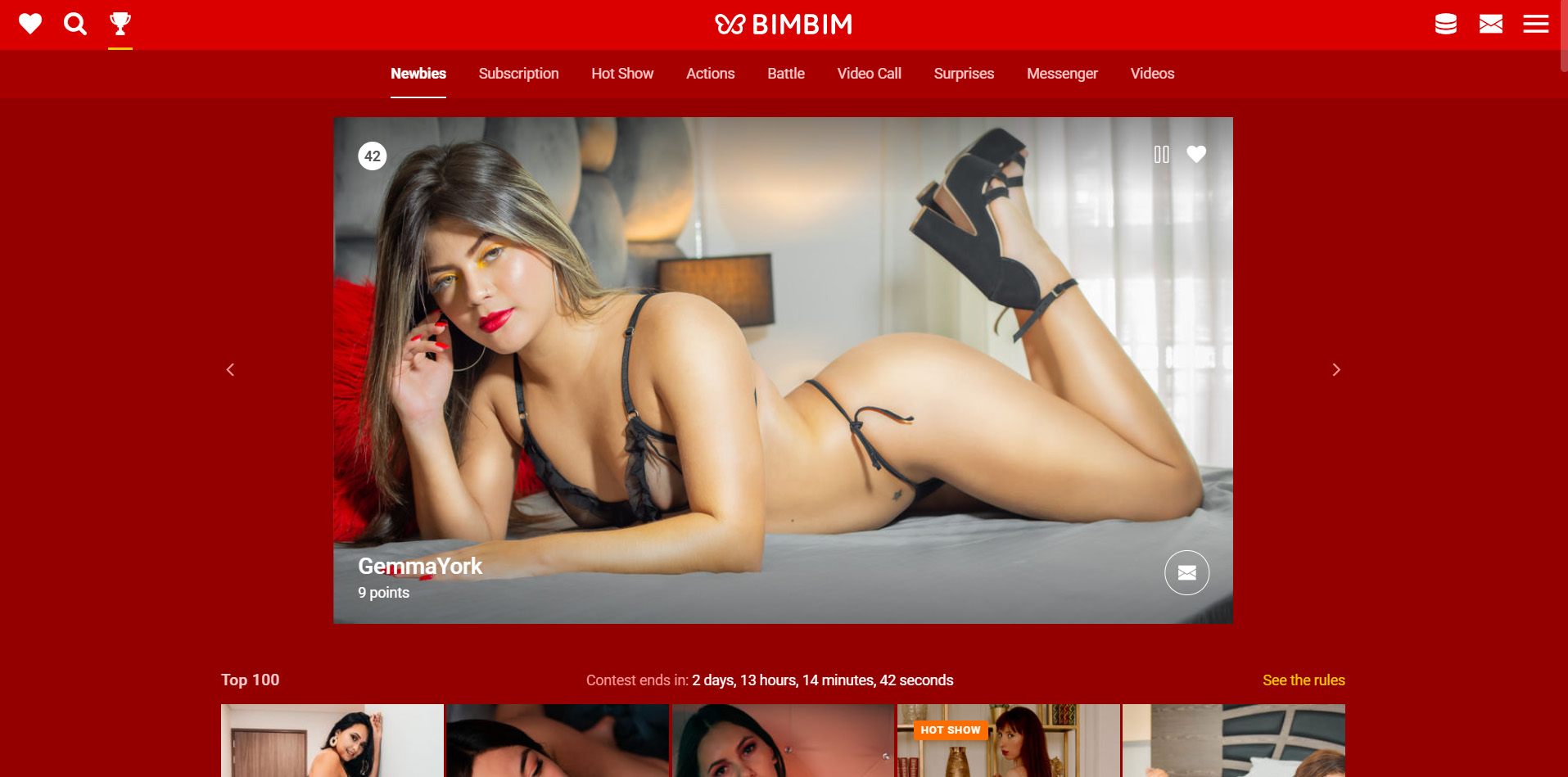 The best thing that creators can enjoy here is that I can send them gifts and hearts as appreciation tokens for their sexy shows.
Just like how it's done on onlyfans, I only need to sign up, check out the models, and then spend credits on those creators whose premium content (images and videos) I wanted to see.
BimBim Features
I joined for free and was immediately given 10,000 coins to spend. Of course, it's not sufficient. Spending it with the girls, it barely lasted a few minutes, and there are far too many sexy ones that I got to check out. So, I obviously topped up my wallet balance, and I was in for a chat experience that was worth every penny. Here are the features I get to enjoy in BimBim:
When I logged in, a wall of choices greeted me. What I saw first was photos of girls on live shows. When I hover in front of one of the live choices, it shows a preview of what's happening inside that girl's room.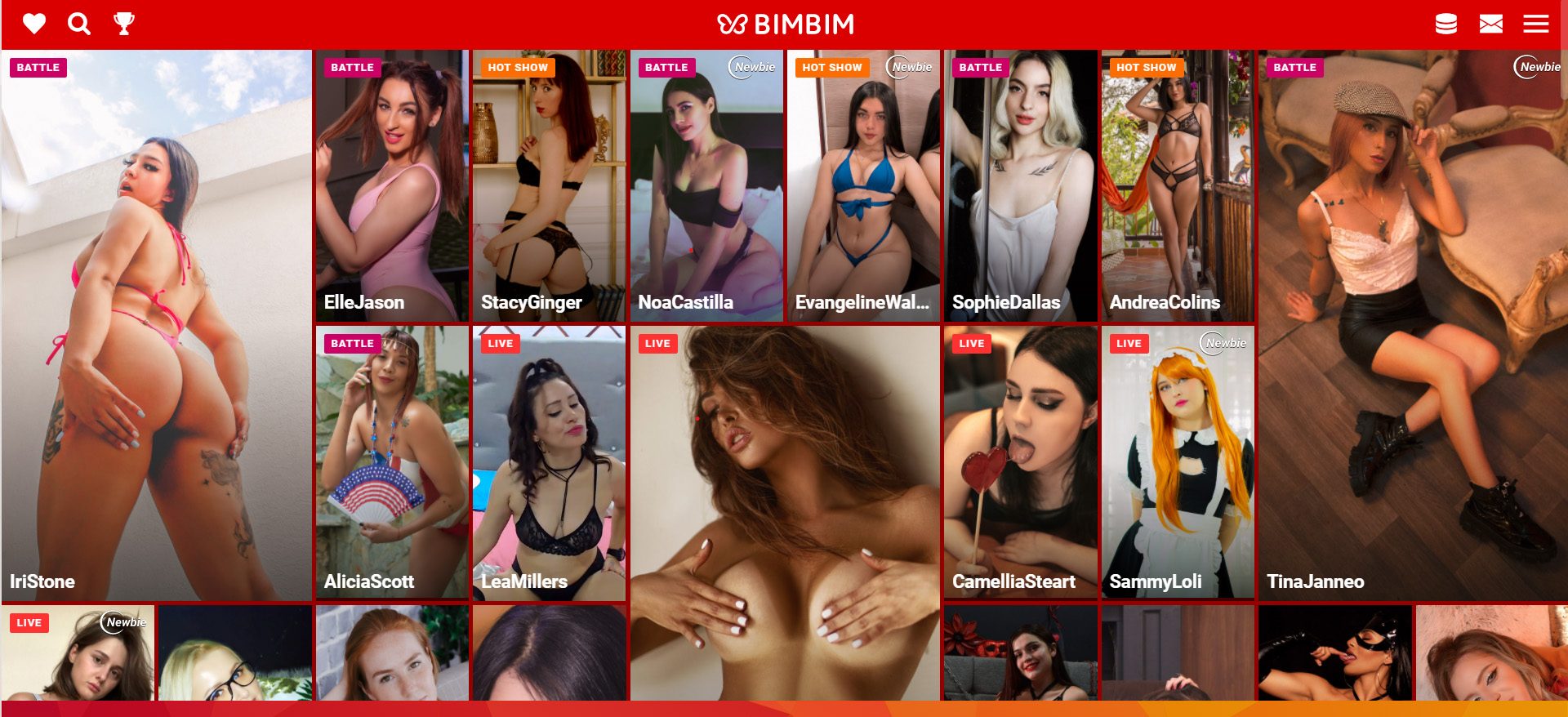 In this photo, I let my mouse stay on LeaMiller's, and that's what she's doing at that moment.
This is a good move by Bimbim's creator because I can already see if I want to proceed to watch that girl or not. I don't have to waste time by clicking and entering their live shows then going back to the main page. I can simply let my mouse move again if I want to find another one.
What I also noticed is they have three different types of live shows; a) battle, b) hot show, and just c) plain live. So I tried watching each type, and yes, they truly have different features from each other.
When I enter the one that says "Live", I get to see girls just doing their thing (watching movies, playing online games, searching the net). But what I like about this one is I get to see them in hot outfits! They also reply to the comments.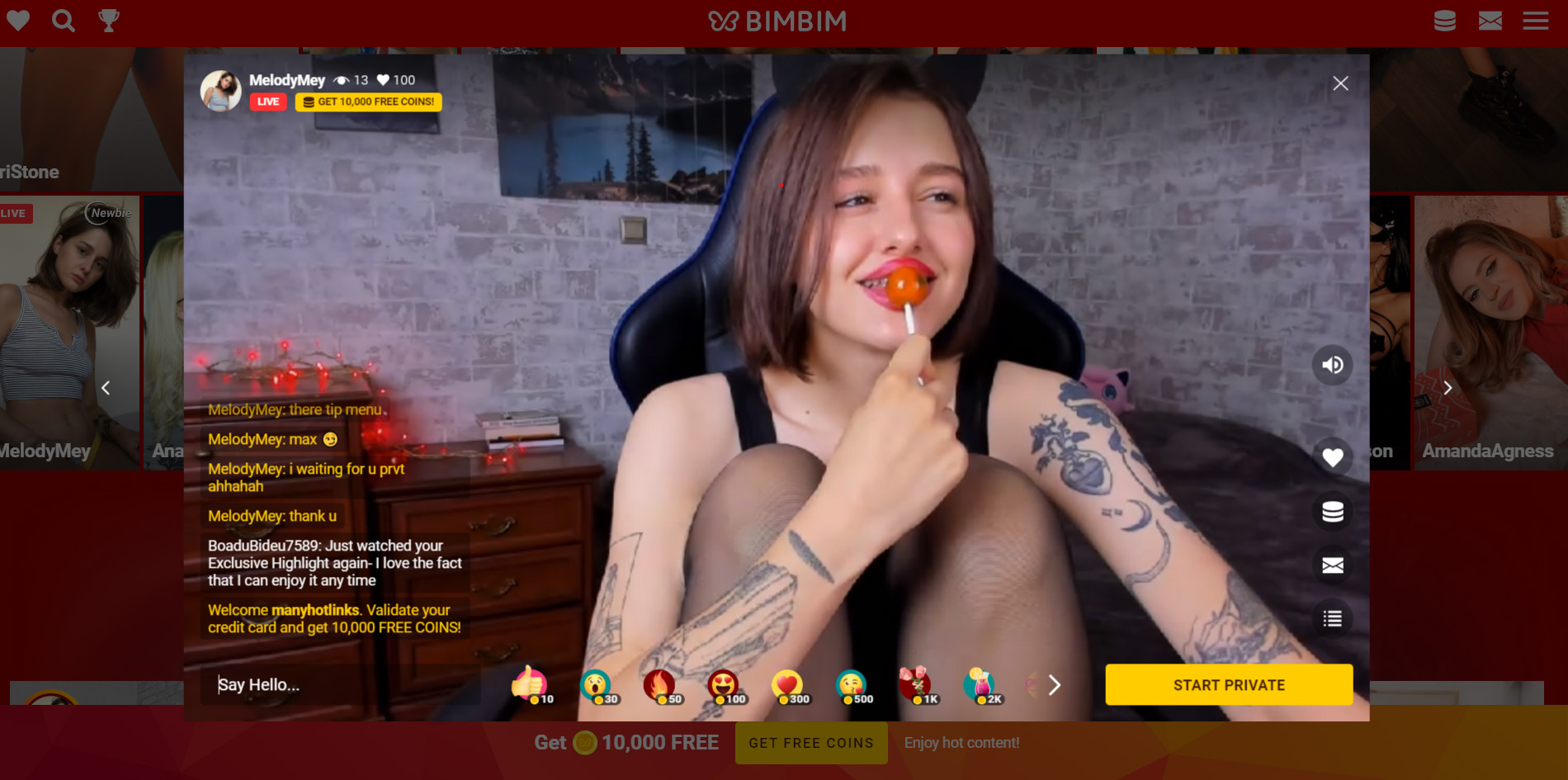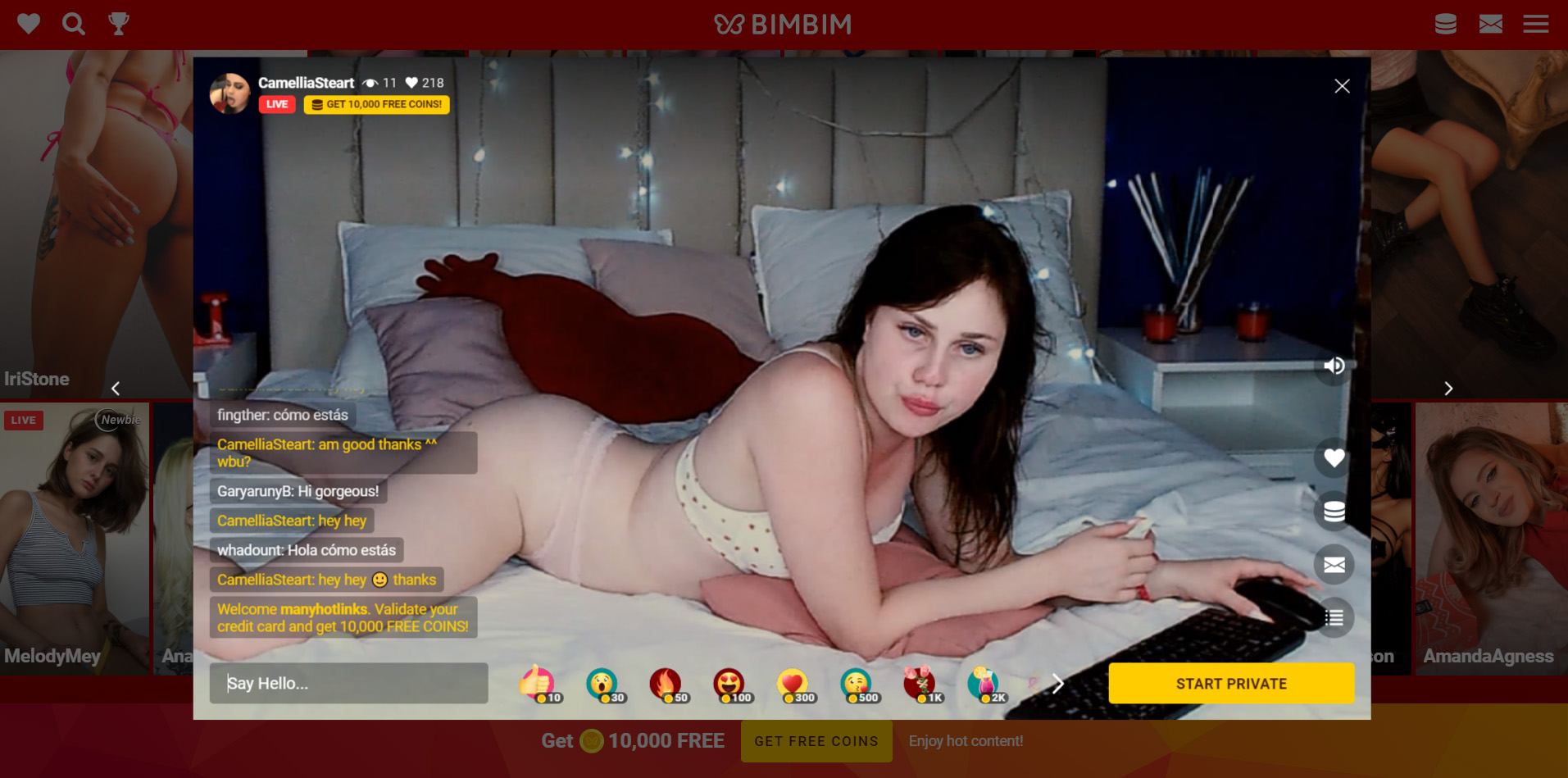 And here goes the hot show! It really is true to its name as the models in there do really arousing stuff. They also have a "goal" where I must tip them so they would do it once their target amount of coins has been reached. For AndreaColins, if she reaches 10k coins she's going to ride a dildo, do blowjobs, and squirt! That's the advantage of having many tokens, boys!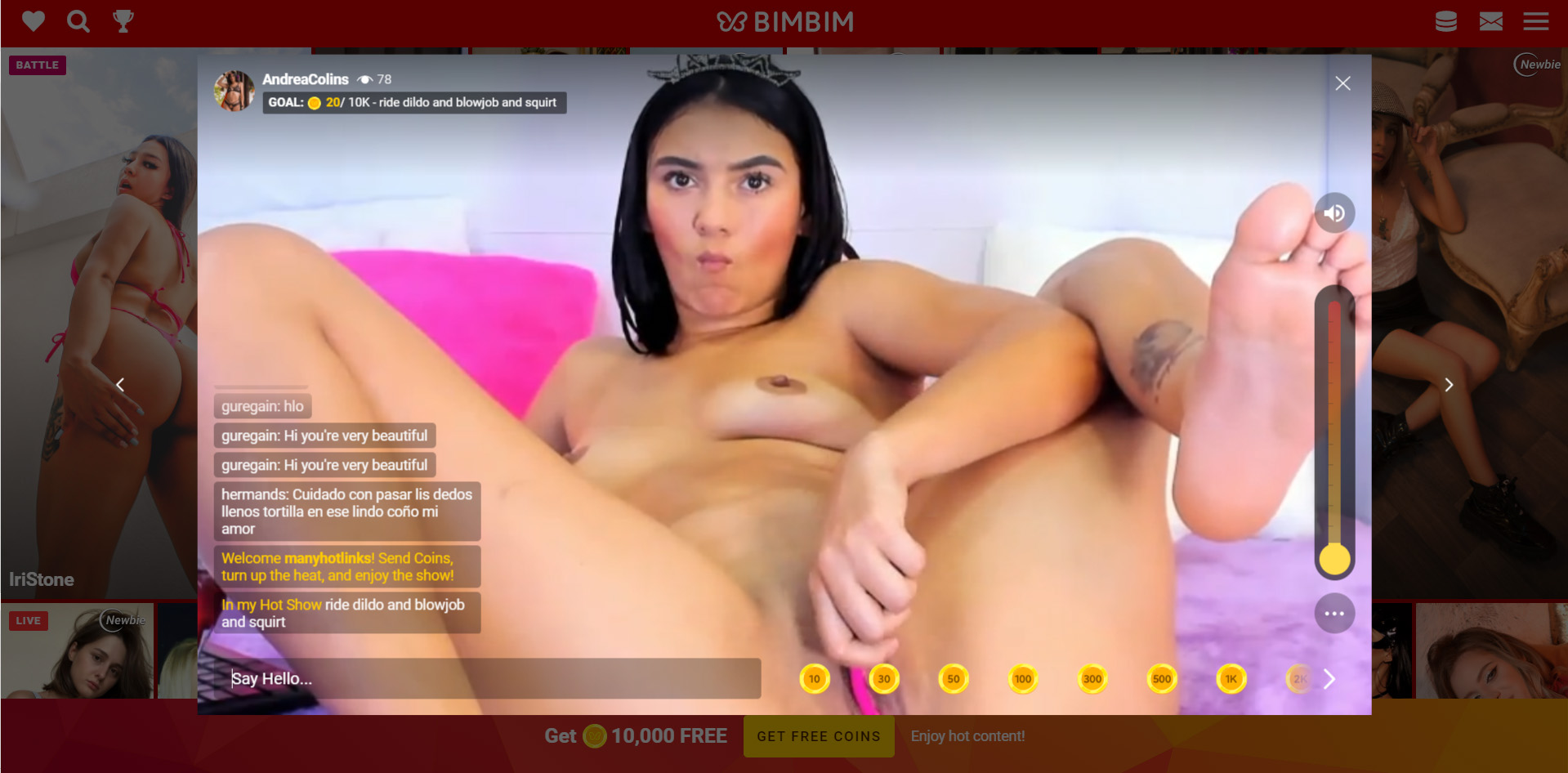 BimBim Girl Battle!
For the battle, there are actually two girls competing for different things. Who can twerk better? Who can ride a dildo better? I can answer that by giving a tip to my chosen gal.
When I scroll down on the main wall, I get to see their stories just like in Facebook and Instagram. This site also never runs out of new content. What's better is that under the stories, there are categories that can be explored. I had a thing for striptease so that's where I went next.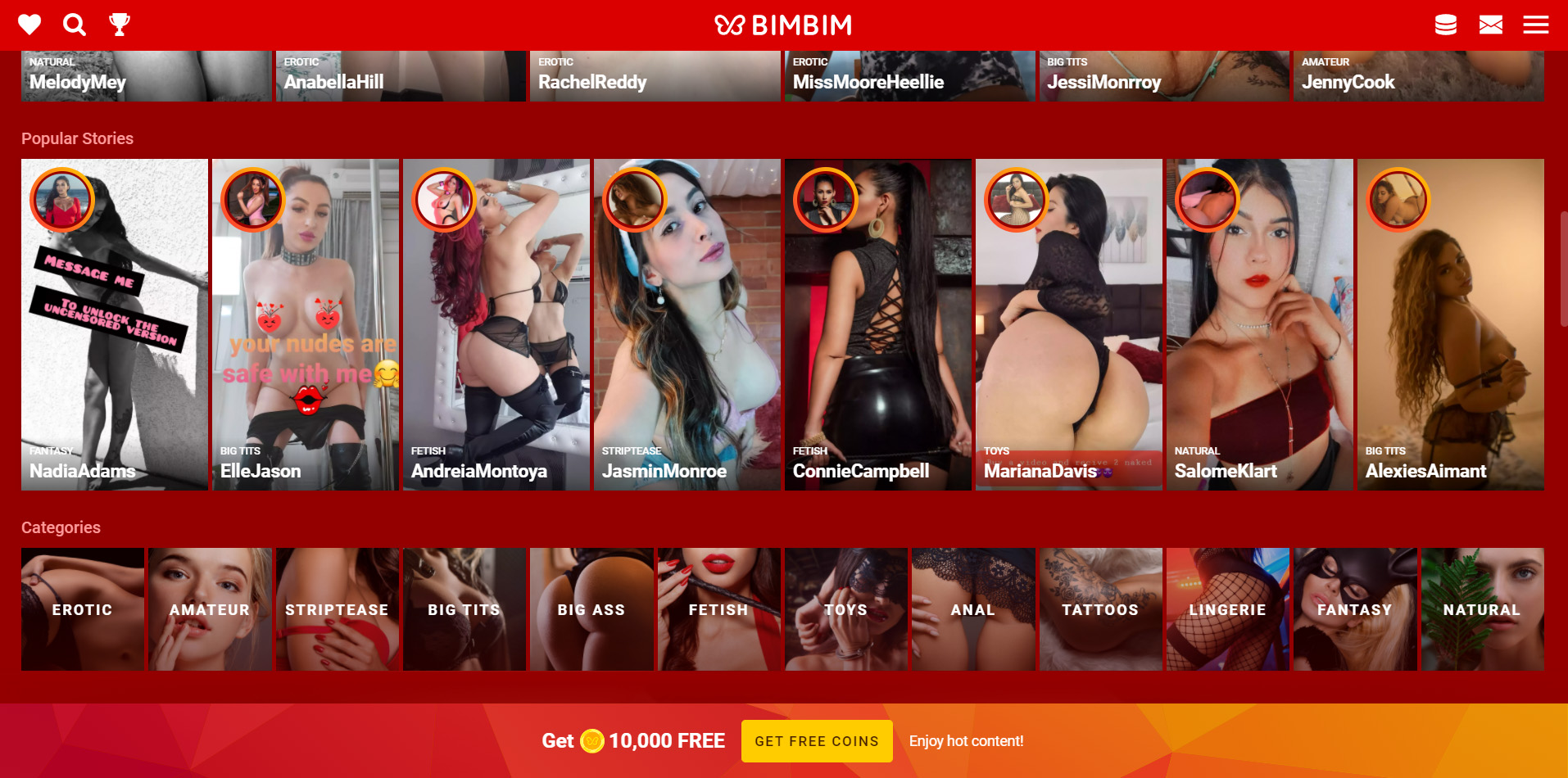 Once I clicked one of those categories, it immediately led to another wall of videos that shows just what I'm looking for. They're not live though. Still, I get to enjoy the models previously posted content all the same.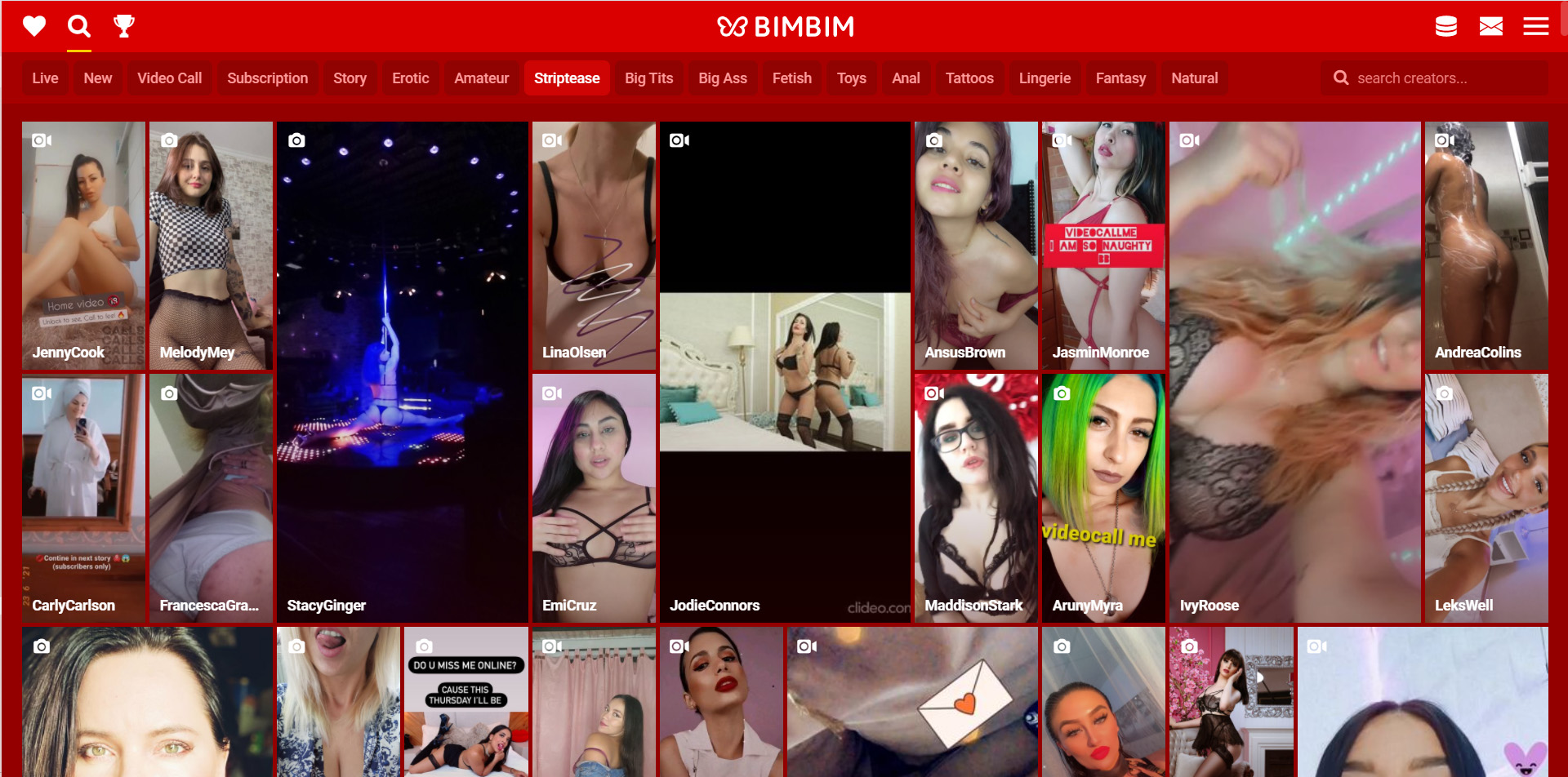 Premium users can engage with models via stories, messenger and video calls. I also have the privilege to go on private chat or cam to cam with live models. Going premium means being able to subscribe and follow all the favorite creators' profiles so there's no waste of time in finding them again on my next login.
Upon my premium subscription, I'm also given 30 days of full access to all premium content. I may also get access to other sites on the network such as livejasmin.com, cameraboys.com, livesexasian.com, mytrannycams.com,  and maturescam.com.
What can you spend tokens on?
There are a variety of ways that I could splurge my coins on these ladies. One of them is to use it on video calls. I tried to have a video call with JadeHills. These girls do know how to charge for their services. This gal costs 3K coins a minute, but it was freaking hot!
May it be video calls or voice calls, the rate is still the same (depends on the girl). If I had to send a message, I also have to pay 500-1000 coins just for one to be sent. It is still on the girls' part if how many they'll require.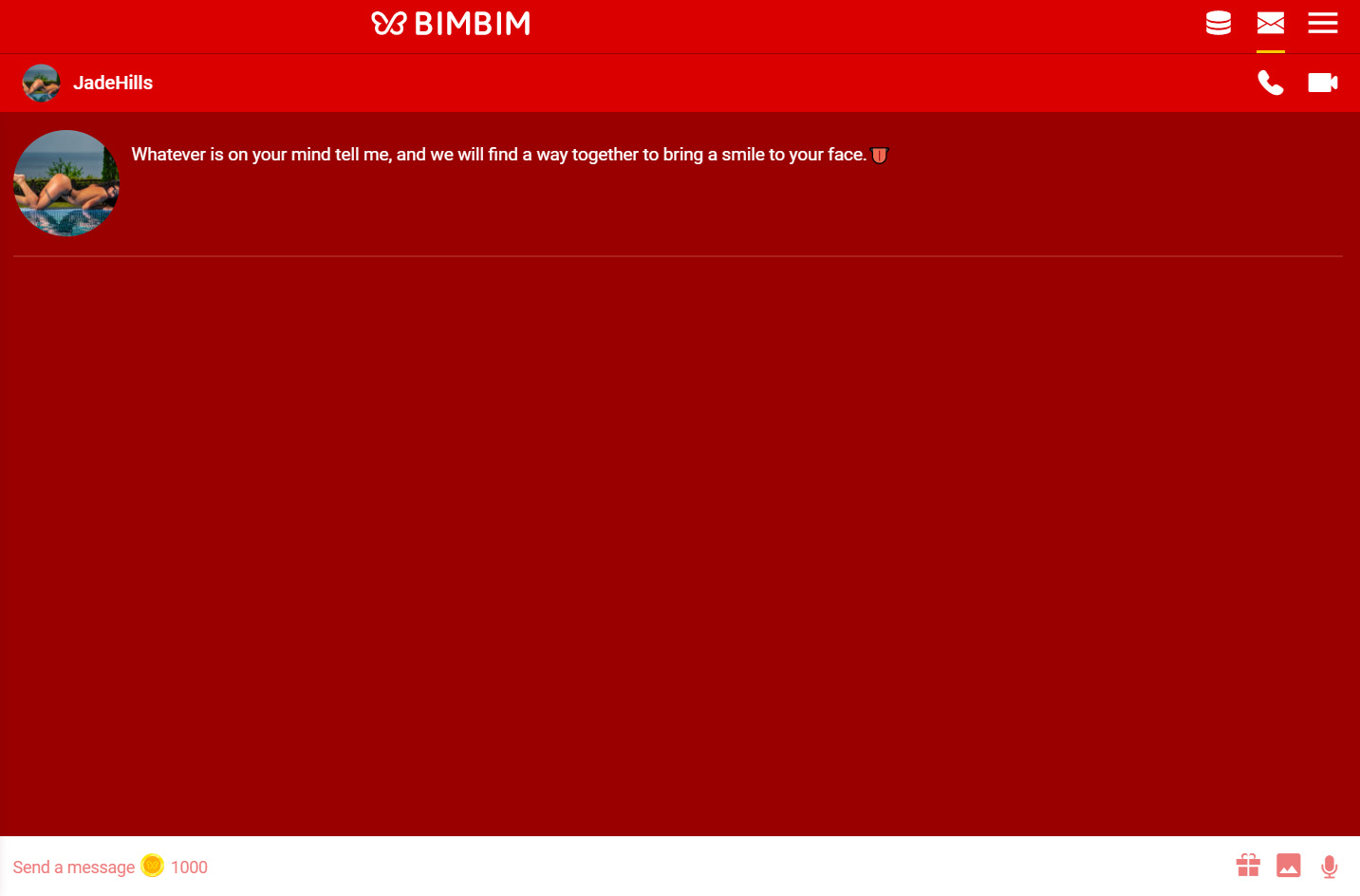 I can also use coins on those that go on hot shows. For this one, her goal is to reach the 1k mark. She really did it once the 1K coins were given! That's quite satisfying to spend my precious coins on.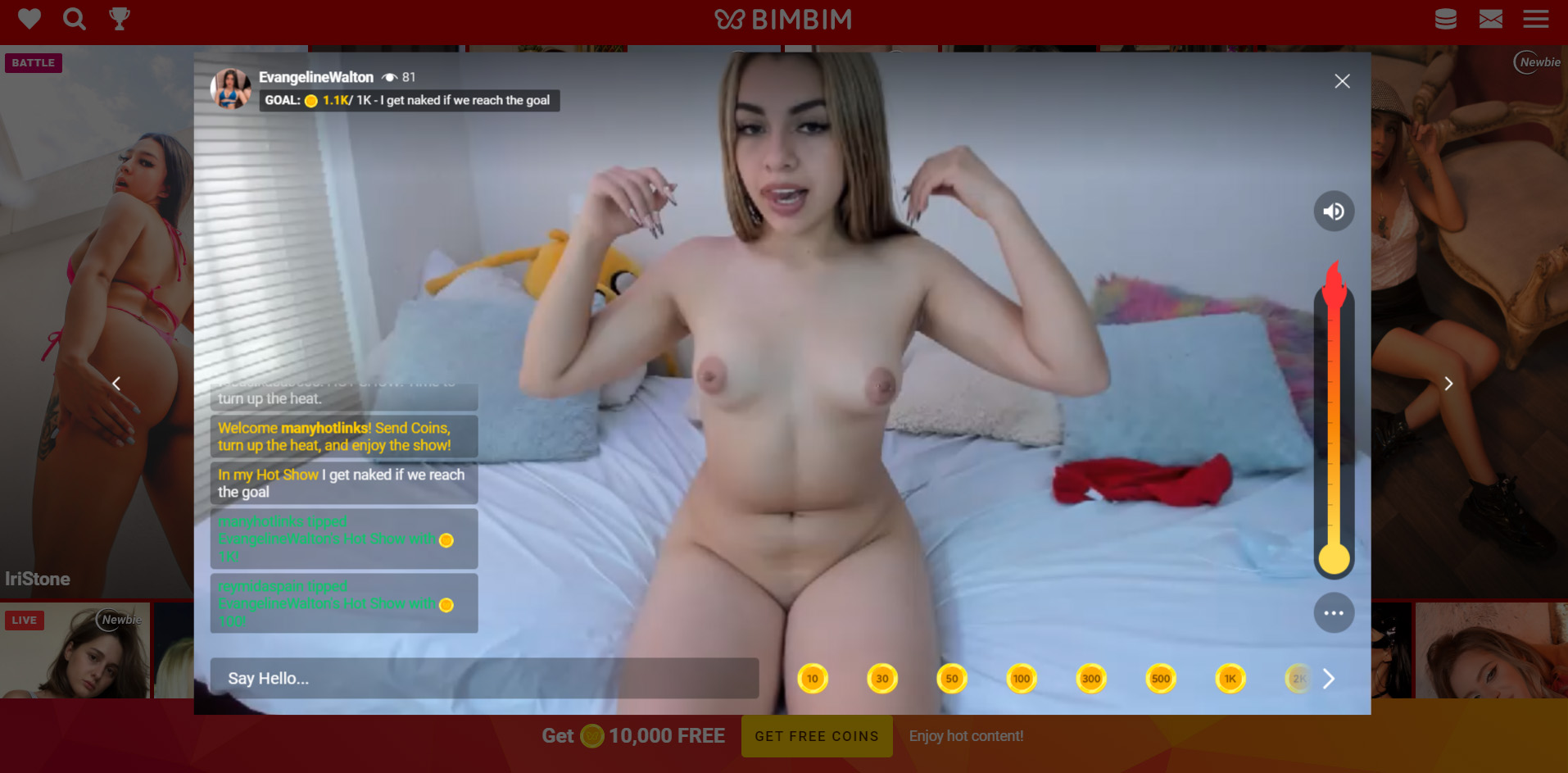 Another way to spend coins is by giving them gifts they deserve.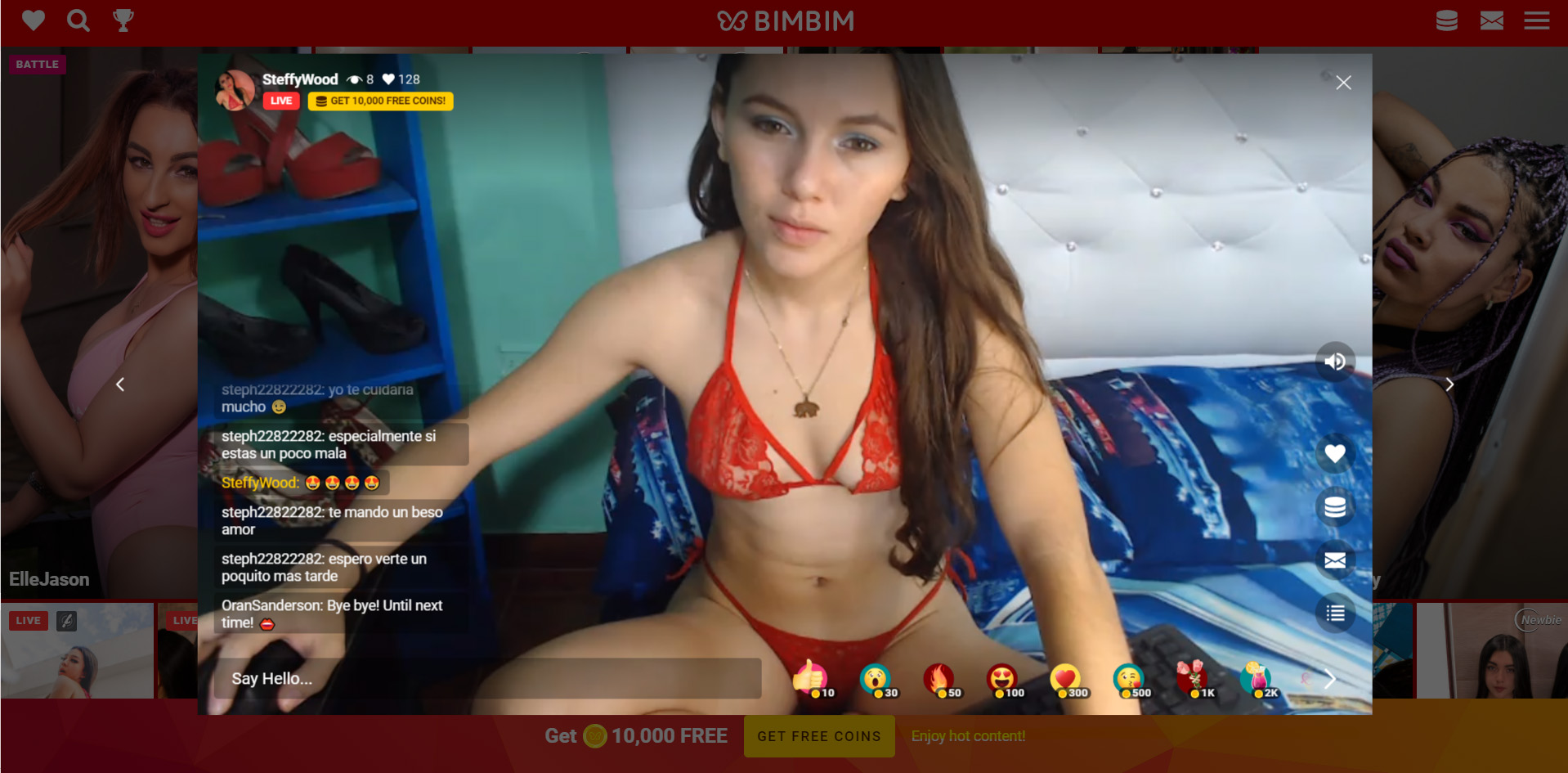 It cost 10 coins for a like reaction, 30 for wow, 50 for on fire, 300 for a heart, 500 for a kissing emoji, 1K for a rose, 2K for a drink, and so on. I am free to give anything. But you know what? These models do deserve the best so I give them based on what I feel about their performance.
For the battles, I could give the girls as much as I want. If there's a girl I really like and she's in a battle, I can show her support by sending her coins. The lowest I can give, just like in any other features, is 10 coins.
BimBim Token Cost?
When signing up, the 10,000 free coins will typically last approximately 10 minutes in chat/cam interaction with a girl. After that, I needed to purchase more, and the pricing are as follows:
1700 coins – $9.99
3700 coins – $19.99 (+300 bonus coins)
12,700 coins – $59.99 (+2500 bonus coins)
22,700 coins – $99.99 (+5700 bonus coins)
47,000 coins – $199.99 (+13,000 bonus coins)
107,000 coins – $399.99 (+39,000 bonus coins)
227,000 coins – $799.99 (91,000 bonus coins)
Payment Options
The premium benefits are truly high-end. That's why I could not stop myself from taking money out of my wallet (or shall we say online bank?). Well, there are a variety of payment options that I could use such as Paypal, Crypto, Skrill, and Bankwire. I'm glad I'm already using Paypal as there's less hassle. But then, if I wasn't already using it, I would have found ways because the experience from a free account alone is enough to convince me to go premium.
BimBim Navigation/ User Experience
When I first opened BimBim, I was greeted by a wall of sexy ladies, Spotify-style, from which I can pick a model I'd like to watch. I can find another wall of sexy women if I click the 'View all live girls' button. I can also access this if I click the BimBim name on top of the screen.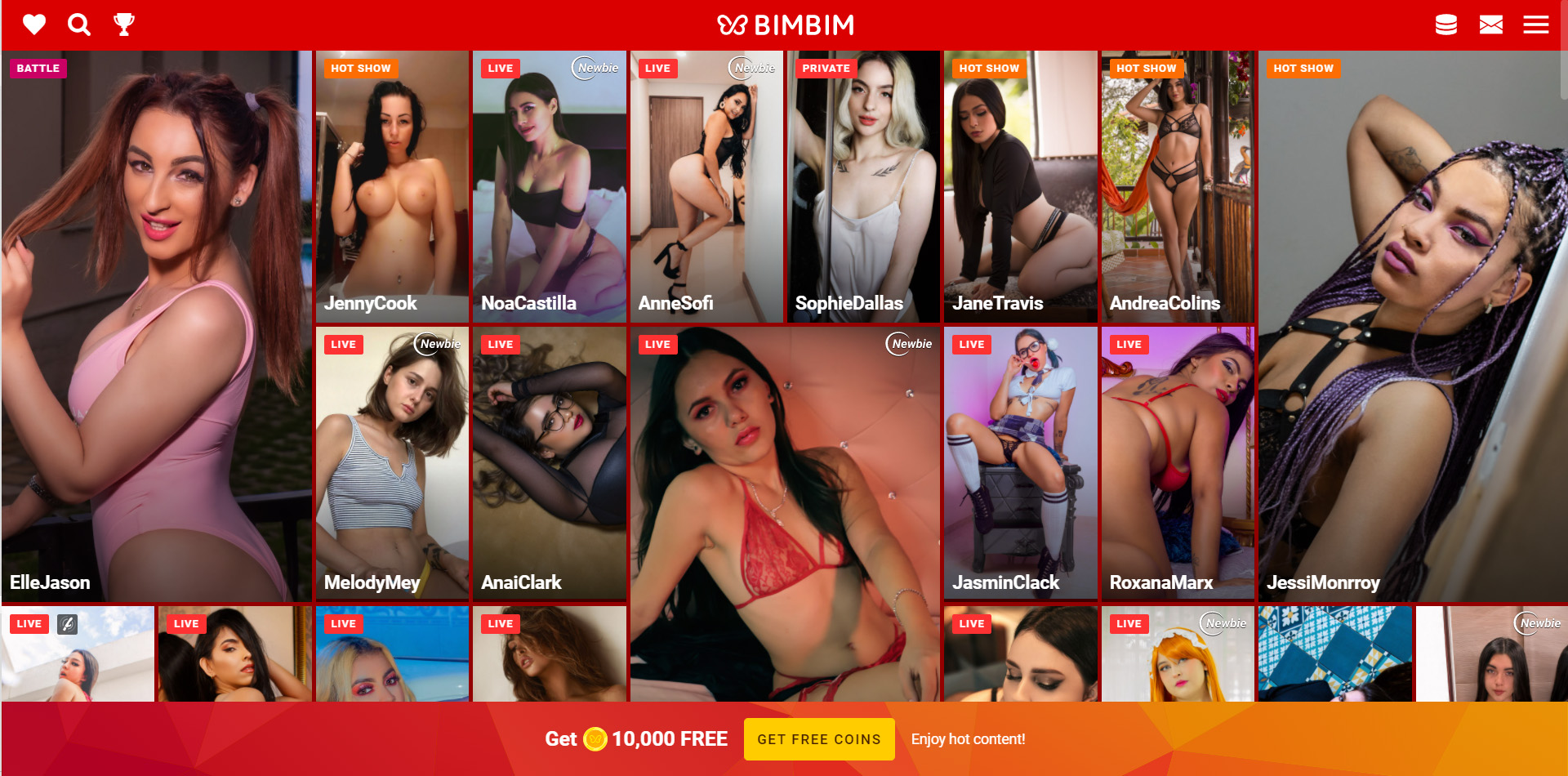 There are 6 icons that can be explored. They are placed on the top part, in line with the BimBim logo.

Once I'll click the heart, I will be able to see those girls that I've given yellow hearts to. I can then check out their profiles by clicking on their photo. It can serve as my "favorites bar."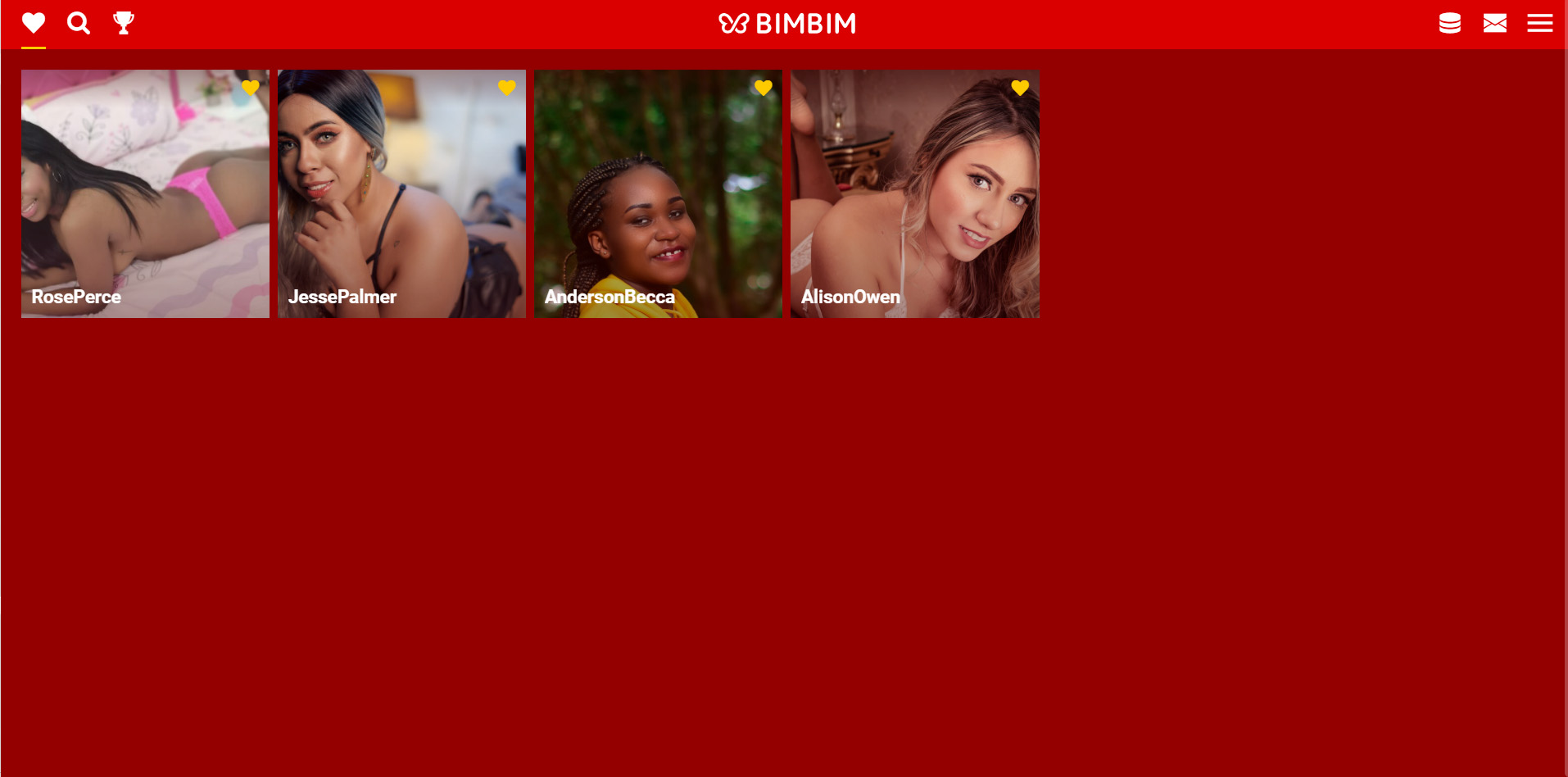 By clicking the search icon, I immediately have access to all the contents on the site. Live or not. I can choose from already categories, so all I have to do is pick the one I want to watch.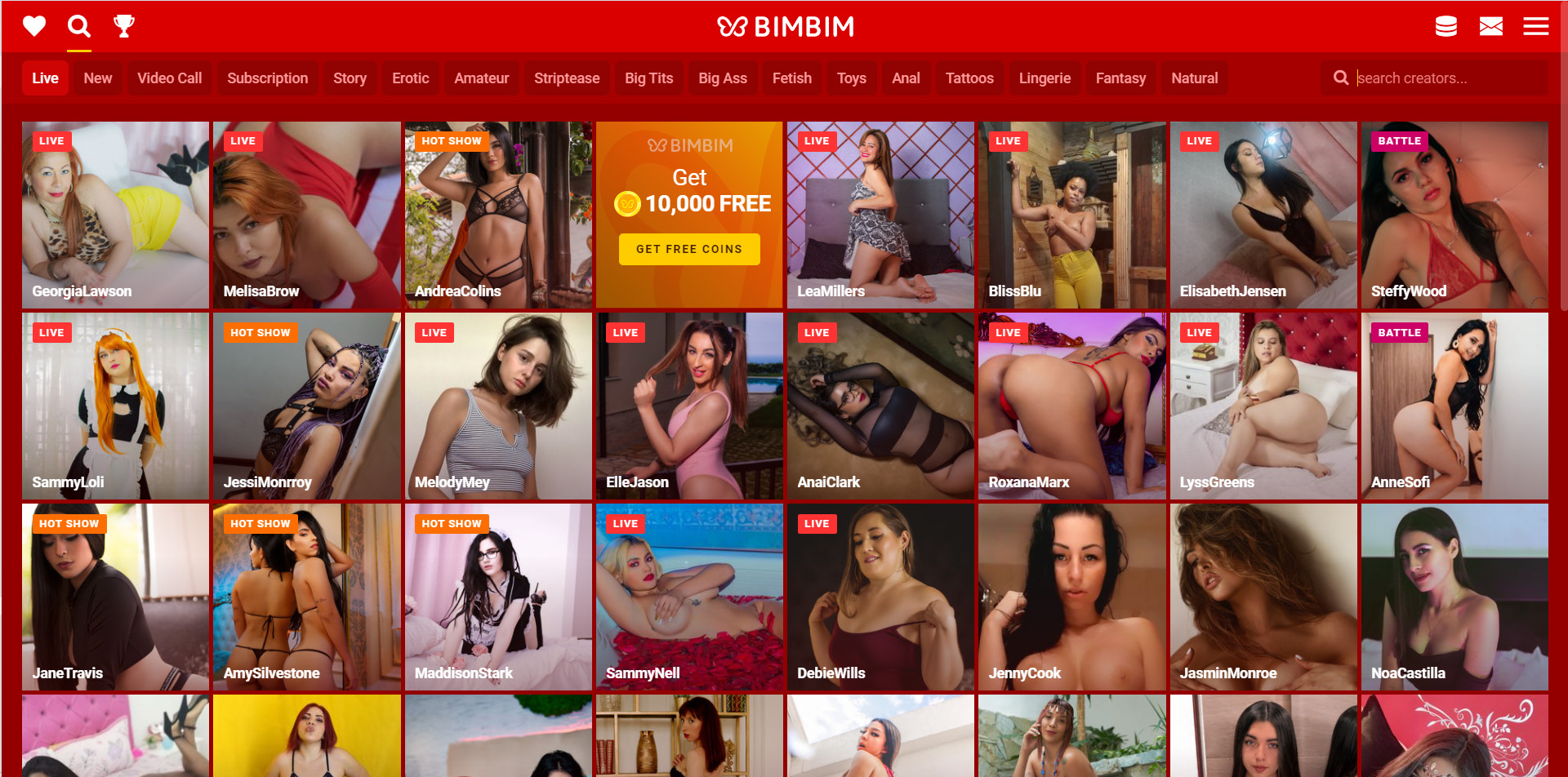 The Trophy icon will lead to another page where I can discover newbies, subscribe to different girls, watch hot shows and battles. Not only that–I can also go on video call and messages or access all of the videos uploaded on the site.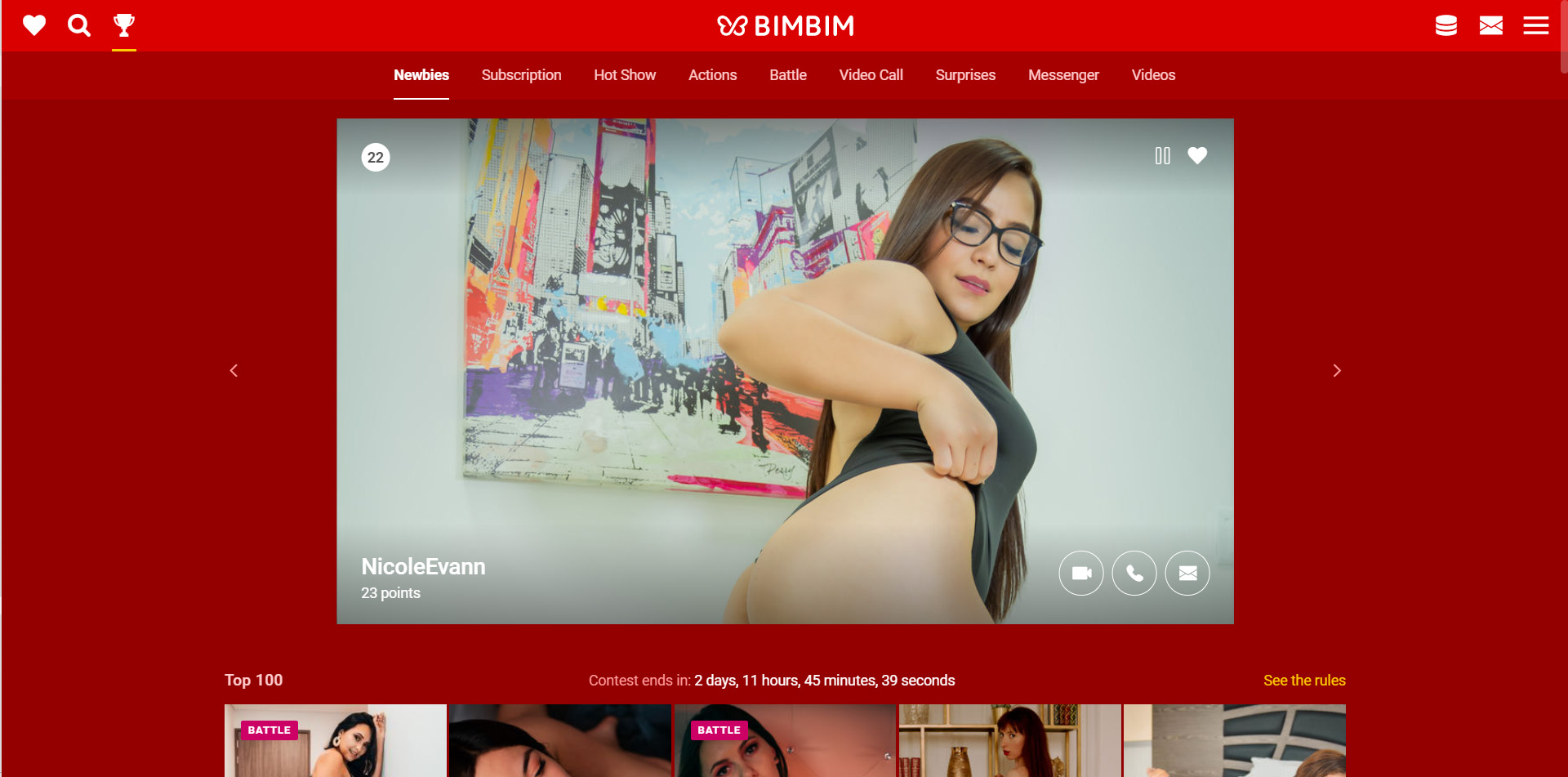 Let's talk about the message icon. Here, I can see all the conversations I had; I may opt to find another girl to chat with again.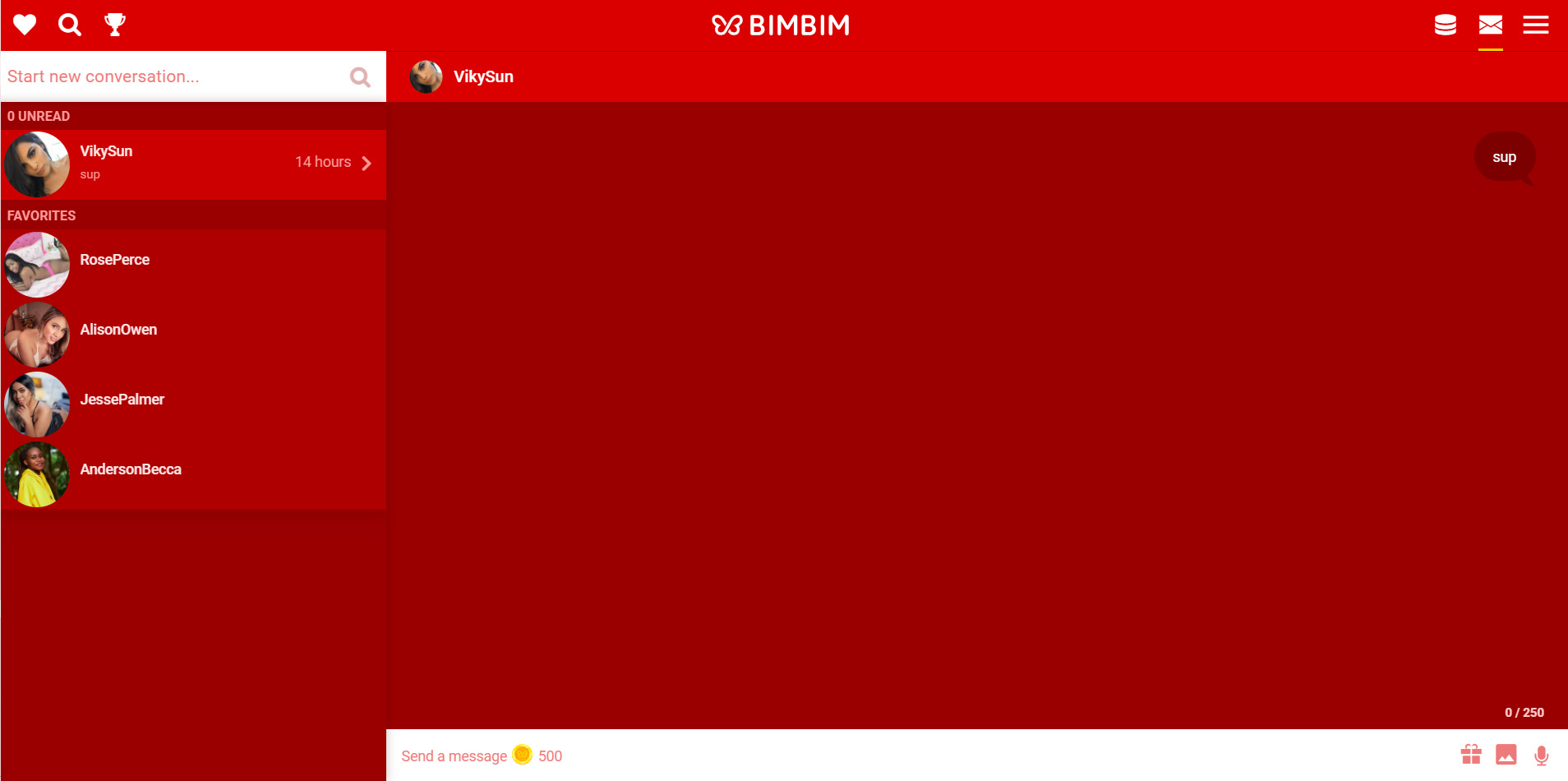 I can chat away instantly. I may also send coins for special requests, turn on/off the volume, and access the model's profile by clicking her icon.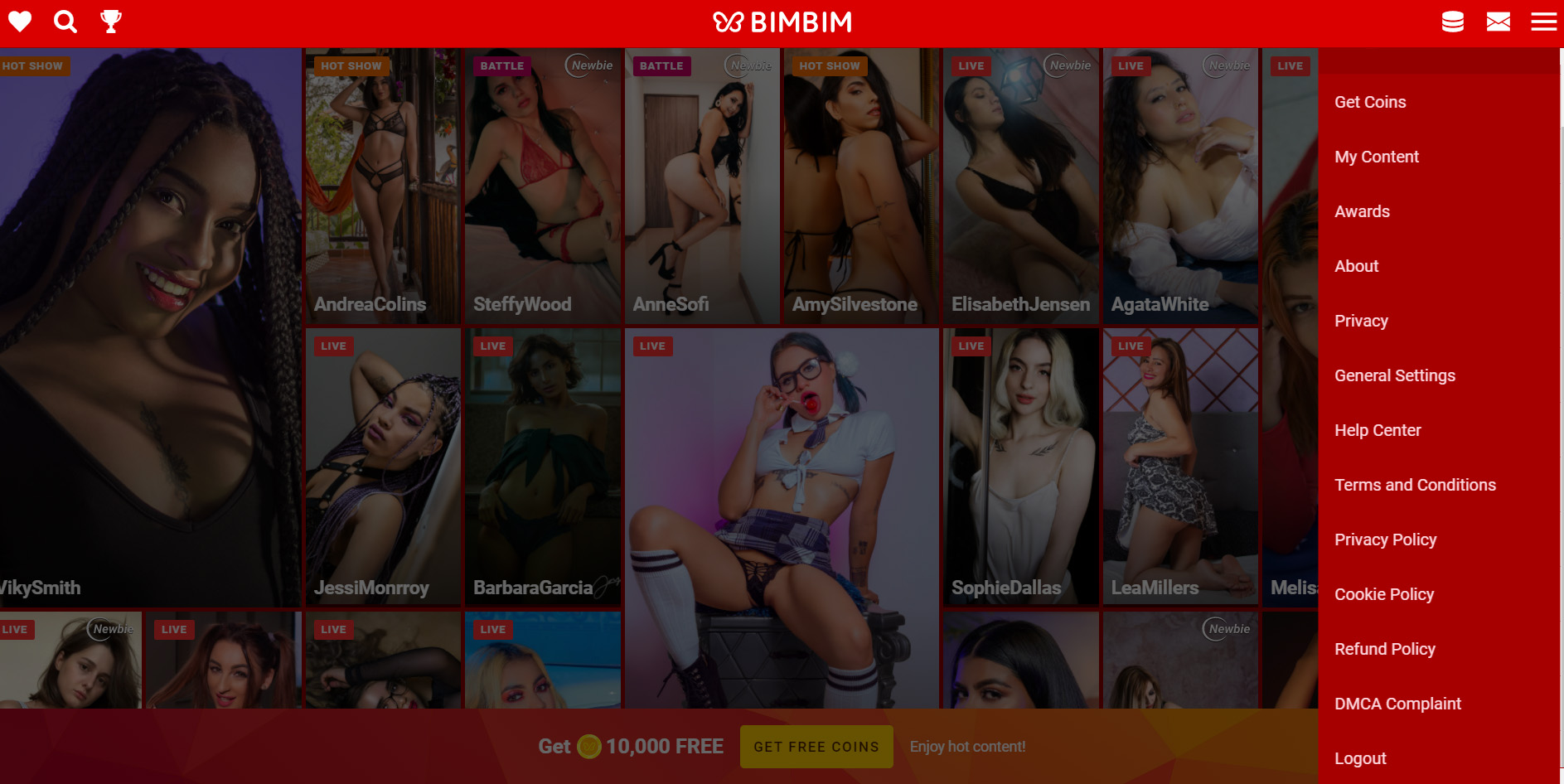 The three lines on the last part are all about the settings. I can check their privacy policy and also log out using this button.
BimBim Tips – How to get the most out of BimBim
I can find the girls who can do what I'm looking for by heading back to the main page and clicking the search button.
A category list can be found right there. Anal, natural, erotic, amateur, large tits, toys–it includes almost anything I can think of.
Pros & Cons
Overall, it's a refreshing experience. BimBim raises the bar for quality and gives us a new chance to interact and video chat with stunning girls from all over the world. What's even cooler is that I can do my viewing anywhere! It's most likely the first to be created with mobile users in mind. It's simple to use, and it provides all of the interactions we want and anticipate in a quicker way than other sites.
With the fact that BimBim is now the talk of the town, there's no doubt that hot girls will be making their way to the site in no time.